March's two-week long break allowed me to both get caught up on some loose ends in the college office and also make a trip to the Southwest. I was sorry when the time approached for me to head back East, especially when I looked at the weather and realized that my flight coincided with the third Nor'easter in several weeks, so I changed my reservation to arrive in Boston a day earlier than originally planned.
Back at Tabor, I hunkered down in my apartment as the storm raged outside. My college counseling colleague Anna texted me when the lights flicked off then quickly back on again. We are fortunate that the dormitory where we live is attached to a generator, so while others lit candles and considered what to do next, the two of us powered our phones and laptops and reviewed our notes and pictures from a tour of Florida colleges and universities we had taken a few weeks earlier. "Why," I wondered, "wouldn't anyone consider attending college in Florida given the diversity of schools the state has to offer….not to mention the sunshine and warm winter temps?"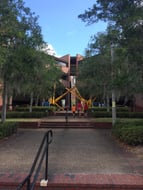 Visiting seven colleges and universities in four days, Anna and I were struck with the Sunshine State's options. A student looking for a large university replete with 60 fraternities and sororities will be impressed by the Rowdy Reptiles of Gator Nation, a group recently voted one of the best student fan sections in the NCAA. The University of Florida in Gainesville is home to 16 colleges including the Warrington College of Business Administration, the Wertheim College of Engineering, and the College of Nursing to name a few. Proud of their entrepreneurs and innovators, U. Florida sets its students up for success with a top-10 career resource center.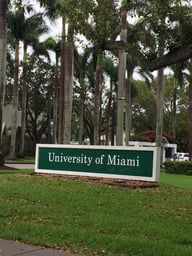 Sitting smack dab in the middle of a hub for Fortune 500 companies, the University of Miami encourages its students to ask, "What do I want to do with the rest of my life?" Given that 92% of students have post-graduation plans, it is clear that they accomplish their goal. With the abundance of opportunities offered by major companies like Cisco Systems, American Airlines, Hilton International, and Microsoft Latin America, for UMiami students, the city is their oyster. A university of about 10,000 students, Miami feels smaller because of its nine colleges, so whether you want to be a nurse, an engineer, a teacher, a marine biologist, or an architect, the Miami Hurricanes have something worth consideration.
Similar in size to Miami and nestled in the heart of downtown, the University of Tampa is known for its "Learn by Doing" experiential approach to education. After grabbing a Starbucks coffee on the ground floor, students at Tampa find their way to the eighth floor of the Daly Innovation and Collaboration Building and practice skills critical to successful entrepreneurship -- a hallmark of this university. When they need a break from their busy lifestyles, students are able to rent a bike (for free!) from BikeUT and cruise along Tampa's popular Riverwalk. With only 30% of its student body coming from Florida, out-of-staters aren't outsiders.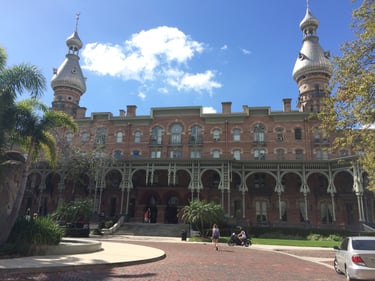 Sitting squarely in the middle of Florida's horse country, Stetson University, with its 3,100 strong student body -- also known as the Hatters, is one of three smaller schools we visited. With four schools under its umbrella -- Arts & Science, Business Administration, Music, and Law -- Stetson also boasts 17 Division 1 teams in the Pioneer League with baseball, basketball, football, and yes, beach volleyball being its biggest sports. The School of Business is Stetson's most popular, largely due to the fact that nearby Orlando and Daytona are internship hubs. Something impressive to note about Stetson is that while community service is not a requirement, students there put in 130,000 hours of service each year.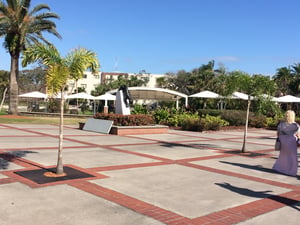 Florida Institute of Technology, known most commonly as Florida Tech, was founded in 1958. With colleges of engineering & computing, science aeronautics, psychology & liberal arts, and business, Florida Tech produces leaders in the fields of autism, forensic accounting, and aviation. Boasting its own international airport, pilots study and train to fill a field ripe with demand. Don't let the technical, science-y feel of this school fool you though. A trail weaves through the on-campus protected Botanical Garden, allowing hard-working students a shaded, quiet place to read, relax, and walk. The middle of campus is home to a beautifully-kept community garden, managed by the students and overseen by the office of residential life. It offers students the opportunity not only to grow fresh vegetables but also to decompress while working in the dirt. Florida Tech students are required to live on-campus as freshmen and sophomores and may choose from traditional-style rooms or more grown-up, apartment-style living.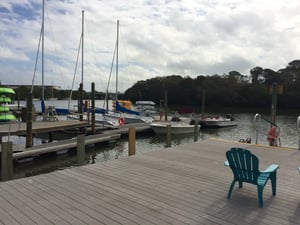 Warm and welcoming, Eckerd College in St. Petersburg is a barefoot campus. Yes, you heard it right: no glass bottles are allowed outside of buildings so that students and faculty feel comfortable walking barefoot around campus, which is sweetly-situated directly on Tampa Bay. Hard sciences are especially strong at Eckerd, including one of the best marine science programs in the country. Given the fact that Eckerd has its own private marina, students have quick access to the college's fleet of teaching vessels. Also at Eckerd, a student's ID allows the check out of sailboats, paddleboards, canoes, sea kayaks, and all the gear needed for a camping trip. Other cool facts about Eckerd: there is a student-built, wood-fired kiln; students may earn their dive certification, and animal-friendly housing is offered to those who can't be without their pet.
We visited Rollins College in Winter Park, which sits on beautiful Lake Virginia just outside of Orlando. A traditional liberal arts college, Rollins also offers students the ability to earn a master's degree in five years in its 3/2 Accelerated Management Program. Committed to service, Rollins inspired its most famous alum, Fred Rogers '51 of Mr. Rogers' Neighborhood with the "Life is for Service" motto, which is engraved in marble on Strong Hall. At Rollins, scuba diving is included in the phys ed curriculum and women's golf is the dominant sport, most recently winning the NCAA Division II national title.
College visits to warm, sunny Florida not only allowed us to get a little color on our faces, but they also opened our eyes to the range of colleges and universities the Sunshine State has to offer.