By Lauren Boucher, faculty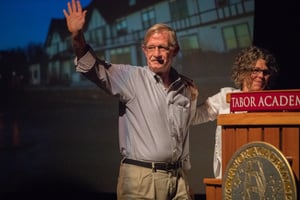 If you take the "e" out of Mr. Heavey's last name, you get the word "heavy." I've been an audience member at Tabor musicals for years, and when I pause to think about putting just one musical together, it feels heavy -- too heavy to bear. John Heavey has directed 13 musicals and dozens of Blackbox theater productions during his 25-year tenure at Tabor. The organization and vision Mr. Heavey must own to manage a cast of dozens of students, while also helping the choreographer, set designer, lighting designer, and costume designer see his vision, blurs my thinking.
Anyone who knows Mr. Heavey understands his great sense of calm. I've seen him a bit worked up a couple of times (maybe), but all in all, Heaves is utterly unflappable. Perhaps this is due to his own training as a performer, something he continues to enjoy as an occasional actor at the Marion Art Center. Or maybe it is the volunteer work he does at the Barnstable County Correctional Facility, where he teaches poetry writing to inmates, a program he instituted a couple of years ago when he was on sabbatical. Or maybe Heaves' gift for calm came as a result of heading up the English department for somewhere between 15 and 20 years. Consider the cast of characters in that department over time and you quickly realize the hilarious heaviness of that lift. Whatever the case, many of us have been fortunate to learn from John Heavey. He is a great role model for talking less and listening more. There are at least a handful of us in this room today who have benefitted from Mr. Heavey's trained ear. Perhaps you are a student who had something you really wanted to put into writing. You stumbled and stammered explaining yourself as Mr. Heavey listened, giving you perfect advice when he spoke. Perhaps you are a colleague who needed someone to listen to an idea for an innovative lesson that you had poured your heart into. You talked and sighed and talked some more as John Heavey listened, assuring you that your idea was terrific and that he might want to conduct the lesson with his class, too.
John Heavey enjoys Tabor. He holds dear the many students he has taught, the baseball players he has coached, the poets he has nurtured, the performers he has prepared, the Wee and New House antics he has withstood, and the colleagues he has mentored. Colby Morgan, a member of the class of 2009 and one of Mr. Heavey's former advisees, said, "At least of couple of times a year Heaves checks in with me just to be sure I'm happy. He's been doing that for 10 years. That is above and beyond." Another member of that same class called Mr. Heavey "a patient, fatherly presence," continuing on to say, "He allowed me to struggle and make mistakes, but he was always there unflustered to help me see how to move forward. He cares about kids in the best way one can care for a teenager -- it's about each kid's needs, not his. He is not driven by ego."
I am fortunate to be John Heavey's friend. While I know you won't be at Tabor for another 25 years, John, I do hope that you, Alex, and our circle of friends will break bread together for years to come. Congratulations on completing 25 years of service."