It's 10:20 p.m. on a Wednesday night in Baxter House. Dorm meeting is over, a yellow sheet cake with vanilla frosting and sprinkles has been devoured, and six girls sit on the floor of the Common Room playing Bananagrams. With midyear assessments behind them, the girls are more relaxed and cheerful -- back to their old selves.A new semester has allowed them to hit the reset button and focus on the second half of the winter: the musical is in three weeks, the girls' lacrosse team leaves for the Florida spring training trip in six, and juniors have begun meeting with their college counselors.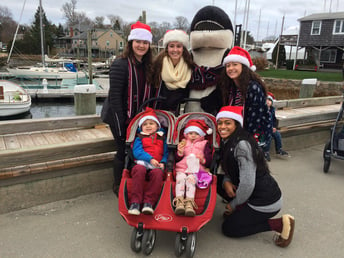 A creative and fun group of young women, the Baxter girls create new traditions each year while others remain the same. Working with Mrs. Quirk, the Head of School's wife, each year before the Town of Marion's Holiday Stroll, the Baxter girls package cookies prepared by the dining hall staff, dress up in Tabor gear and elf hats, and accompany Sammy the Seawolf, Tabor's mascot, to the Town Pier where young and old alike await the boat-arrival of Santa. Passing out cookies and posing for photos with youngsters who want their picture taken with Sammy, the Baxter girls enjoy representing Tabor each holiday season. This year the Baxter proctors collaborated with proctors from Matsumura House, the dorm right next door, to hold the first annual "Baxumura" holiday mixer. With sugar cookies and hot chocolate provided by the dining hall, the girls made their way to Matsumura following study hall to celebrate the last day of school before leaving for holiday break. The group of 50 students and faculty members posed for photos, chatted in the Matsumura kitchen, and relaxe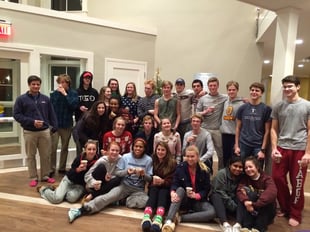 d together on the bank of sectional couches. It was a pleasant, communal way to finish up a very busy three weeks. Better than that, though, was the birth of a new Baxter-Matsumura tradition.
As a dorm parent, I do my best to be available to the girls in Baxter in the same way I'd want someone to be available for my own child if he were living away from home. It is a gratifying part of the job. Whether I make myself available for a listening session and a hot cup of Sleepytime tea, or I read over an essay for a struggling writer, the rewards are simple yet satisfying. But living in Baxter cuts both ways. The pet lovers in the dorm help me out when I'm in a bind for a dog walker, and I appreciate being able to trust them to lend a hand. In many ways we're like a family; we understand the importance of helping each other, spending time together, learning from each other, and most importantly, having fun.
While each year living in boarding school has its own lifecycle marked by key events, there is something wonderfully warm and consistent about life and the community in Baxter House. Perhaps it's knowing that there will be pumpkin butter cake or chocolate chip banana bread at the 10 o'clock dorm meeting. Or maybe it's the promise that one of the two dogs who lives in Baxter will be available for a snuggle after a cold, rainy soccer game. If you visit Baxter an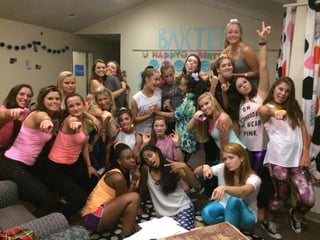 d ask the girls what it is that makes their residential experience so good, they'd comment on both the physical and emotional aspects of life here: everyone lives on one floor; there's a small laundry room; not only are there dogs, there's a baby and a toddler, too; there's a nightly meeting and a snack after 10 o'clock check-in; there's a remembrance of all the Baxter "sisters" who have lived in the dorm previously, and most of all, there's a lot of care, support, and love. Whether you're a dorm parent or a resident, Baxter House is a nice place to be.