For the past couple of weeks, some of my friends and I have started a new tradition of zooming during lunch.We used to meet at the dining hall every lunch block to relax and have some fun but with social distancing, we are now unable to see each other. So the group of us decided to zoom at 11:00 AM each day for a new lunch routine. "Catching up with everyone and seeing how their days are going... it's a good stress relief for an hour of the day," says Grace Murphy. While over zoom lunch Andrew Eilertsen said, "It's like a dhall away from the dhall," followed by Eva Elger joking, "I like seeing what my friends are eating."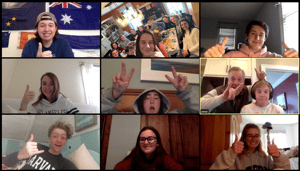 Quarantine has been very challenging for all of us. We are used to seeing our friends all day every day within the boarding school schedule. Since distance learning has started, we have found small ways to keep connected whether it's through texts to check-in or our daily zoom calls. Sometimes if we finish homework early we host a zoom game night. Willem Hunt commented on our game nights, "It's nice to just see everyone… Brightens up my day." We talk about everything from how classes are going to everyone's favorite show on Netflix right now. Syd Leaver adds "I like talking about our classes and hearing what my friends are doing to keep busy besides school." Our zoom call reaches over 2500 miles and three states, so what is a lunch call for most of us is a breakfast call for Kat Parry who says, "It's fun seeing all my friends. Because I live so far away, I won't meet up with them now until next year."
Looking at isolation through a positive lens, I have gained some perspective through social distancing. Tabor is a really special place. We are all from such different backgrounds and different parts of the world brought together for school, and we are all contributing to distance learning. Our group zooms are what keep us linked; "I love just seeing my friends faces and hearing their voices," said Andrew Mottur. "Even if it can't be in person," echoed Charlie Elliott.
If you're looking for a way to stay connected with friends while social distancing, I suggest a daily zoom call...pick a time that works for your friend group and commit. It is really a lot of fun.
Stay safe and well, Seawolves! And connected!