Although we are only entering our third week of being away from Tabor, it feels like an eternity since I finished my last mid-term and was headed home for spring break. Things have been slowing down daily, which has been a nice change of pace from the hectic lives we live at school. However, transitioning into a new routine isn't always easy. I'm not used to slowing down, and not having the ability to see my friends and travel different places has been difficult. Nevertheless, I have been keeping myself occupied!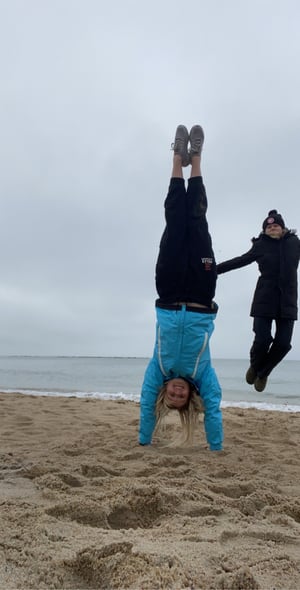 A shared Google Doc titled Coronacation has been keeping me and about twenty other people entertained, serving as a common space to share fun activities such as arts and crafts, good movies/shows and anything else that has kept us busy. For starters, I have been catching up on sleep. My brothers now joke with me whenever I get out of bed before 12- a rare occasion. Rather than the casual stroll between the Acky and the MANS, I have been venturing for walks on the beach with my sister, which has been especially nice with the warming weather! Additionally, I've cleaned my room about 25 times, finished reading a book about interior design, and have completed season 1 of the show Nashville (which I highly recommend if you're a fan of country music). Although social distancing has been a challenge, FaceTime never disappoints when missing my close friends.
The rapid changes that are being made regarding COVID-19 have been unsettling and overwhelming, leaving many of us, especially the senior class, questioning the future of our time at Tabor. Despite not being able to return to campus for the next couple of weeks, I have been trying to shift my attention to the things that I can control. We all live such active lives. It is rare that we take the time to slow down and appreciate all that we do have. This situation, though difficult, provides a great opportunity to ask yourself how we can use this time to improve a skill, accomplish a goal, and better ourselves as an individual.
I have personally benefited over these past few weeks by reconnecting with my passion for music. When my sister and I were in middle school, we dedicated a lot of our free time to performing at different places such as nursing homes, festivals, and restaurants. This past Friday, we got in touch with our vocal instructor who recently created a program called "Face the Music." Since a majority of nursing homes are currently restricting visitors, we spent over an hour traveling from room to room via FaceTime, singing to each of the residences. It was an incredibly rewarding experience seeing the impact we made just by doing what we love!
During this period of uncertainty, I encourage you to think of ways you could benefit from all of this time on your hands. Hangout with your family. Go for a walk. Do some yoga. Meditate. Read a book. Write a story. Listen to music. Engage in whatever it may be that brings you happiness. It's important that we take care of ourselves, while also making sure that we take the time to check in on others.
As I have been conversing with many of the seniors during this tough time, we have reminded each other of a crucial component of our childhood, Disney movie sensation High School Musical, as we really are "All in this together."