Written by Deb Cohen P'22 (mother of Hailey Cohen '22)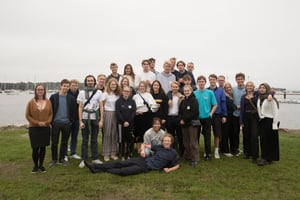 When Rick DaSilva '89, faculty coordinator of the recent Rysensteen Exchange, sent out an email asking families to host students visiting from Copenhagen, Denmark, I immediately responded "Yes!" What a unique opportunity for my family to learn about a different culture without leaving Marion.
As the days to her visit approached, my kids wondered, "What would she be like?" "What does she eat?" "Does she speak English?" The evenings were filled with lots of questions from their curious young minds. The day before the students were to arrive in Boston, I received an email from our exchange student, Lea. Her note was just a short introduction where she talked briefly about her life in Denmark, along with her excitement of coming to the States to meet us.
We met Lea in the Admissions Living Room on Friday afternoon, and after introductions and dinner at home, she handed us small gifts of gratitude — caramels in all different flavors. It was the perfect ice breaker, as my kids gobbled up a handful. Turns out she loves sweets and ice cream as much as we do! We all decided to have a movie night. Lea is fluent in English and understanding an American movie was no trouble for her. Halfway into the movie, I found all three girls (my two children and Lea) snuggled on the couch in their PJs, with the dog curled up in between.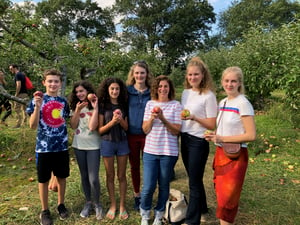 Saturday started out bright and sunny — perfect for a morning of exploring New Bedford. Conversation wandered along with our footsteps. She and I discussed topics such as the history of New Bedford, city (Copenhagen) versus small town (Marion) life, and cultural dynamics. Because it was such a beautiful day, my kids and I decided to take Lea apple picking at a local farm, meeting up with the McGinnis's, another Tabor family hosting a Danish girl named Maya. The two girls were excited to participate in this typical fall ritual, and marveled at the variety of pumpkins and the vibrant colors of changing leaves. Our afternoon was filled with lots of apples and lots of laughs, which continued over dinner together. With six teenagers (four American and two Danish) at the dinner table, conversations morphed into talk of school and teachers, books, movies, and pop culture. Turns out we're not all that different from each other.
A usual Sunday in our house involves errands and grocery shopping, in which Lea happily joined. She was surprised by the enormity of our stores, and excited to see so many flavors of Oreos. "We have nothing like this in Denmark!", she exclaimed and had to buy a few small packages as treats. We ended the weekend with dinner on Main Street in Falmouth before celebrating the Jewish holiday, Simchat Torah, with our friends at Falmouth Jewish Congregation. Watching and listening to the Rabbi read passages from the Torah was a completely new experience for Lea, and she had lots of questions about our religion which led to broader discussions about the role of religion in both our countries. My kids contributed to the conversation, talking about what it's like to be teenagers believing in a minority religion.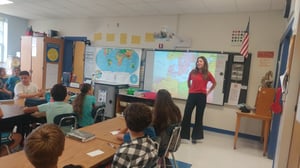 Lea's visit with us lasted five days — and time with her went way too quickly. Talking with the Long family, they felt the same way. Nicole Long shared, "We absolutely adored having Ida this week and wish she could've stayed longer! She fit right into our busy family routine, tasted her first pumpkin spice latte, romped on the floor with our dog, and enjoyed meeting everyone from our family, at Tabor, and even around town!"
On Tuesday evening, Lea's last night, we were all saying that we wished she could stay longer, as she easily felt like a part of our family. Before we knew it, we had to say goodbye to our new friend. Parent Jenn McIntire echoed my thoughts as well, "I guess it is always good to feel like the visit is too short. These short exchanges are great opportunities to conveniently expose Brendan to other cultures and perspectives. So valuable!"
As a new Tabor parent, I cannot say enough about the wonderful time we had hosting our first exchange student. My kids and I look forward to the next time and getting to know more students from around the world.
Enjoy these photos from the exchange!