Two junior students traded places between Marion and Beijing this fall: Amber Harris, from Tabor will attend the school Ricky Ren has joined us from, RDFZ Xishan School in Beijing!
Amber Harris: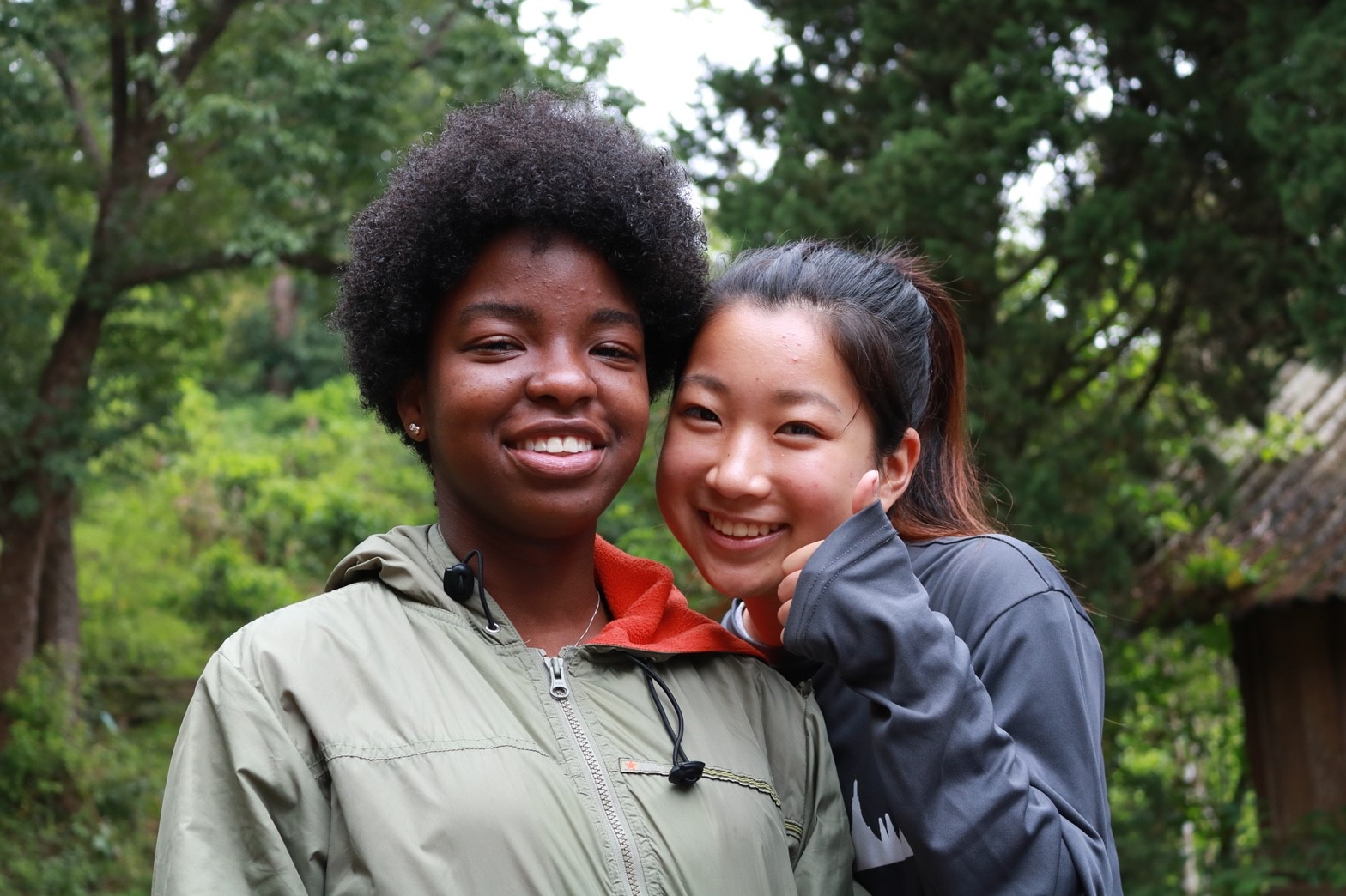 Pictured above are Amber Harris with fellow Sewaolf Nina Sasakawa during our summer service trip to Thailand
My freshman year at Tabor, I decided to apply for the one-week exchange to RDFZ Xishan School over spring break. RDFZ Xishan is our partner school located in Beijing, China. At the time, it was my first-year learning Chinese, and I had only known basic greetings and conversational words. That March, I gained memories I will cherish forever, new friends, as well as a knack for sitting in a chair for more than ten hours. It was final. I was determined to become a student at RDFZ.
The following year, I decided to go back. I had now been studying Chinese for a year and a half and wanted to show my friends my new level of fluency. By then, I had already harassed Mr. Downes for months to figure out a way to sneak me in. After several meetings with administrators from both Tabor and RDFZ, it was decided that at the beginning of my junior year, I would be able to attend our partner school in China.
As August 28th approached, I was beginning to feel more anxious and ecstatic. A whirlwind of emotions consumed my thoughts every time I was asked a question about the exchange. Will I have fun? Will it be hard? Is my Chinese good enough? I questioned my decision, but then I received a text from some of the friends I met back in China. They said they couldn't wait to see me. They want to show me all the things I didn't have time for in my last two visits. Restarting my emotional thought process, and I was excited all over again.
I will be spending the first two months of school abroad returning Fall Long Weekend. I hope to improve my Chinese. I am eager to experience Chinese culture through real life experiences and not a scripted exchange. While I am here, there will be two national holidays. I can't wait to live as a native and celebrate what we don't. Although I will miss my friends at Tabor, I will be able to undergo a life changing adventure. I'm elated to see what this new adventure holds.
Amber Harris '20 arrived in Beijing on August 28th, and is studying in the AP and English-language curriculum at RDFZ Xishan School, a branch school of one of China's most highly regarded secondary schools. This is her third visit to RDFZ in the past two years. She will return to Tabor at the end of October to continue her junior year.
Ricky Ren: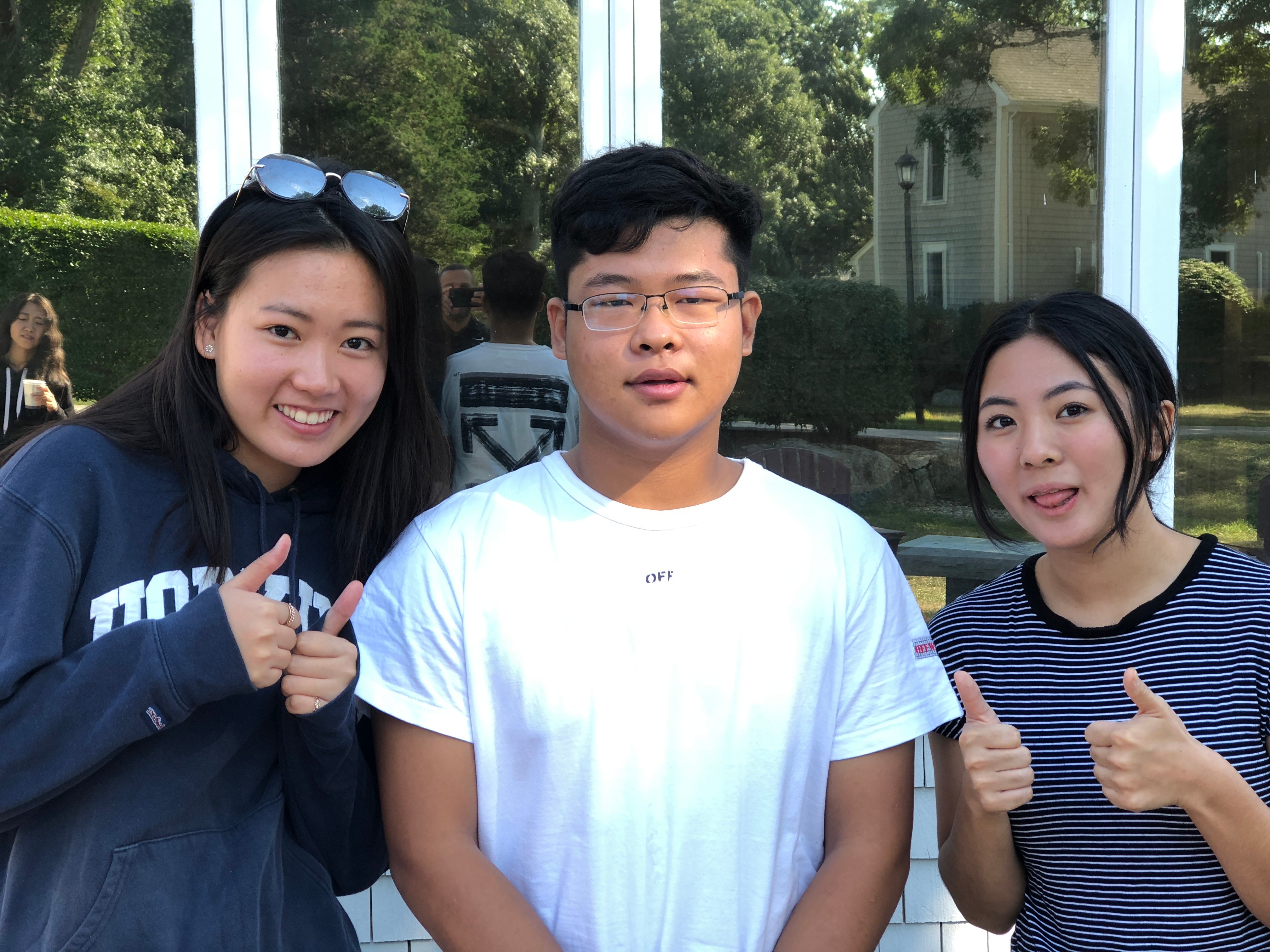 Pictured here are Ricky Ren with his Global Partners Daisy Ye and Mao Matsuo at Tabor's International Student Orientation
I have been at Tabor for just a few days, and I want to talk about my impressions of Tabor. To start, I'm nervous about the life and study in Tabor, because many things are new for me, so I always ask the teacher and students for help. They are all very patient and helpful, and they always have a smile on their face. No matter what problem I have, they all try their best to solve it. I appreciate all the people who have helped me, and am very happy to meet all the people at Tabor. To be the exchange student at Tabor for two months will be a very special experience in my life.
Ricky Ren is our first exchange student from RDFZ Xishan School, Beijing, he arrived at Tabor on August 31. It is his first visit to our school. We hope to have the opportunity to continue this immersive exchange in the future.