The sixth and final orientation cruise started on a hot sunny day as nervous faces arrived at the Tabor waterfront to check in. Just like our incoming students, this would be my first time on an Orientation at Sea trip; you could say we were all in the same boat. Although I had more information on what the week would hold, I was still unsure how we would mesh as a group and what the next five days had in store for us.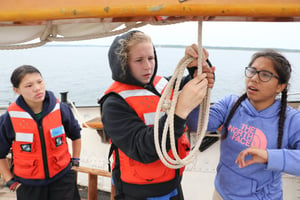 The first day started out how one would expect, crew members asking questions and students too nervous to shout out the answers. The students learned nautical terms so they could communicate effectively with the crew which consisted of Captain Geil, Orientation at Sea Program Director Amanda Sabol, and seven officers - Tabor upperclassmen - five boys and two girls. All seven of these Tabor student-crew members went through Orientation at Sea themselves when they were freshman and they shared with me what an impact the program had on them. Right off the bat, in this program, Tabor establishes older students as leaders and role models for younger students, just as we do in the dormitories and throughout school life.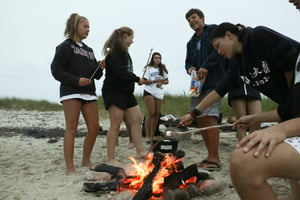 The crew made a point to tell the students that although this trip may be referred to as a "cruise," it wouldn't be a leisurely trip around Buzzards Bay. The students were going to learn how to sail the ship, clean up after themselves, and complete marine science experiments. The trip from Marion to Cuttyhunk on the first day was a learning experience for all newcomers onboard, including me. We set sails under light winds and headed for the small island near Martha's Vineyard. Dinner, like most of the day, was quiet. After a trek to land for a campfire with s'mores the students arrived back to Tabor Boy and went to bed. The day was long and the students were ready for sleep.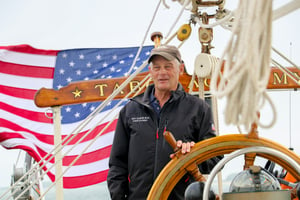 On Day Two, I noticed the kids really coming together. The two competitions at the beach the night before really brought out the students' personalities as the games were tight and everyone was taking it very seriously. But it was during swimming, after jumping off almost every part of the Tabor Boy, when I had my evidence. One student did the math on how much time was left on the trip and exclaimed, "We really only have two days left… I'm going to miss you guys!" which was met with laughter and a retort from a fellow student "but we will be at the same school soon!" At dinner, the laughter and stories flowed freely!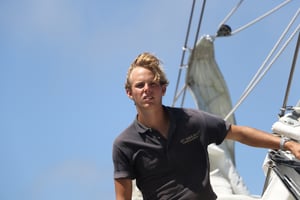 On Wednesday we had a real bonding moment as Tabor Boy motored to Hyannis for an alumni event through some rough seas. As we reached the harbor, I watched Captain Geil and his Tabor student-crew masterfully navigate the schooner past numerous obstacles and docked with grace at the Hyannis Marina. Even after spending the previous two days watching the crew work, I was thoroughly impressed with their skill and command of the vessel. A few hours later, a large yacht from New York, with a professional crew, tried to work their way in through the same path we took to dock behind us. To put it nicely, they came nowhere close to the level of skill shown by Captain Geil and his crew.
By the end of the week, the students had their inside jokes down and had made a good start on the friendships they would take with them into their first year at Tabor. Who knows, maybe these will be their friends for life, or maybe these newest Seawolves will be the ones teaching our newest Tabor Academy students as crew on a future orientation trip! As has happened on each of the five weeks before our trip, the students left Sippican Harbor as nervous rising freshman and sophomores and returned as shipmates, and full-fledged Seawolves!
I wish each of my shipmates good luck on your first year at our beautiful School by the Sea!