Excerpts of a Chapel Speech Delivered February 27, 2020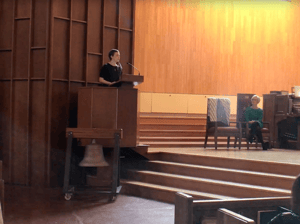 On May 28th of last year, my mind was spinning: I was about to teach my last class ever at Tabor, coordinating a coast-to-coast move to San Diego for a new job in biotech, and attempting to put on a brave face as I edged closer to the date when I would leave the place I'd called home for the past 6 years. In the middle of this spinning, I got a phone call. It was a call I was expecting, and in my head, I thought, "Finally." I had had a biopsy of a mass in my breast 5 days earlier, a precaution I thought an overly dramatic reaction on my doctor's part after having multiple scans come back normal. I picked up, and the nurse asked me a question I wasn't ready for: "Where are you right now?" I asked her a question I wasn't ready to ask: "Do I need to sit down?" And an answer I wasn't ready for: "Yes." The sadness in her voice felt like someone had lassoed a brick around my heart and chucked it in Sippican Harbor. I asked her to please wait, that I needed to find someone first. The walk from the library to Ms. Boucher's office was silent, despite the obvious bustle of the mailbox area—why did it feel like I was underwater? Who had turned up the gravity?
As I stepped into her office, I said the only thing I knew how to say: I was about to get bad news, and I didn't want to do it alone. I put the nurse on speakerphone, and she said four words that shattered me: "You have breast cancer."
The next few hours were some of the most uncertain and painful I've ever experienced; the only information I had was that my tumor was large, the cancer was aggressive, and my doctors were going to throw everything and the kitchen sink at me during treatment. As a biologist, I knew that all of these things meant the chances of receiving a late-stage diagnosis were high. For a while, I lived in the limbo of not knowing if there was a chance for a cure or if this, at 28 years old, was it.
Two hours later, I got into Mrs. Salit's car and she drove me to my first appointment. She dropped everything and stepped in as both a friend and a boss. She brought a notebook, diligently jotted down details of my treatment plan, asked questions only a biologist would know to ask, and kept me sane in a moment that felt like a really, really bad soap opera. I spent that first night making a list of what had to come next: cancel move to San Diego, cancel new job in San Diego, cancel national parks road trip….cancel…cancel…cancel. I was two weeks away from my move date and had already told Tabor I was leaving. A week later, a stage II diagnosis in-hand, I sat in Mrs. Salit's office and cried tears of joy as she told me that Tabor would take care of me: yes, I had housing; yes, I had a job; yes, I had health insurance; yes, yes, yes.
In early May, before my diagnosis, a student interviewed me for The Log and asked what message I wanted to give as a farewell. "In one sentence," she said, and I stumbled through my response, saying something totally basic along the lines of, "Well, at the end of the day, what really matters is how we care for one another. So, take care, Tabor." Little did I know just how much weight it would hold in the coming months.
My new normal settled in in waves: I came to terms with the things I knew I'd lose—hair, a breast, peace of mind—and resolutely decided not to think of these as losses, but as changes. I looked for the silver linings every chance I got. But what in the world is the silver lining of losing your hair? Let me tell you—wigs are pretty fun. What is the silver lining of sitting in an infusion chair for hours while literal poison is pumped into your veins? The laughter I shared with my incredible nurses, and a new appreciation for good health. For the first time in a very long time, I was expected to put my health before all else. It was both terrifying and the biggest gulp of fresh air I'd breathed in years. I decided that my treatment would be more than killing this cancer, but also a journey of practicing self-love.
My first step was telling people. On that first day, I couldn't stop telling people. It felt weird, and I felt guilty—why was I so eager to ruin everyone's day? What was this morbid urge to spread this awful news? And then I realized what was happening: I was creating more emotional surface area for this burden, spreading it out amongst the people I loved. Somewhere in the back of my mind, I knew that each person I told would gladly carry a fragment of it. This was the moment my favorite-ever fortune cookie came true: to love and to be loved is to feel the sun from both sides.
Close your eyes for a moment. Imagine that—being surrounded on all sides by warmth and love. Imagine a moment when a friend showed up for you; like really showed up—they brought the best of themselves when you needed it most. Now, imagine if every one of your friends, teachers, coaches, dorm parents, and even strangers showed up for you. Open your eyes. That's what you all did for me. It would have been really easy to fall apart completely, but you all didn't let me.
On October 1st, I had my mastectomy. I waited 10 nail-biting days to find out what would come next—based on what they found, my doctors would decide whether treatment would be a "cruise control" of 5 years of maintenance therapies, or a frenzied car chase of intensive treatments to outpace the cancer that remained.
On that 10th day, I found out I was NED, or no evidence of disease—my cancer was gone. All of it. As a biologist, it's been hard for me to celebrate this news when I know there's always a chance it could come back. But, at the same time, I have to remind myself that this life—this collection of trillions of cells, existing against all odds, a heart beating day after day without failure, a brain that allows me to create, to love, to feel, to grow—is the greatest gift any of us will ever receive. Use it well. Shower it with kindness and love, even when it's hard to.
A while back, a good friend here asked me a question about this experience that totally stumped me. "What's the worst thing someone could say to you?" I thought of the times when people stumbled and offered remarks that might have been perceived as insensitive when they didn't know what else to say, but none of those moments bothered me enough to be particularly memorable. Even in those moments, I knew that the simple act of trying was a fearless act of kindness. So, what is the worst thing anyone could say? The answer is: nothing. It is the easiest thing to say, and quite possibly the most damaging. Doing what is good is often what is hardest. Tragedy should not be a prerequisite for compassion. Need should not preclude generosity. Kindness is not something to give only if you get.
So, I won't be standing in the antechamber to shake hands and hug you all, as much as I'd love to; you have given me enough of your love, and so I will ask you to do this instead: say something today; commit a fearless act of kindness. Be love in action for someone, whether or not you think they need it. Forgive someone. Show up as your best self, if only for yourself. Start your own journey of self-love, and don't look back.
Because, at the end of the day, what really matters is how we care for one another. So, take care, Tabor.
Amelia Wright is leaving Tabor for her new life on the West Coast on April 1. This speech was both a goodbye and an expression of her gratitude for her time at Tabor. We wish her fair winds and following seas in the next leg of her journey.