At this point, college decisions are almost all in and some students have been placed on the waitlist. It must feel something like "I want to date you, but I'd like to see how this other person responds to my request to go out before I commit to you." What? That doesn't feel fair. Amy Cembor, Senior Associate Dean of Admission at Providence College, agrees. She said that being waitlisted is a gray area that feels both uncomfortable and frustrating; it's not something families expect: "We talk more about the college application process and the resulting decision outcomes in more binary terms: either you get in or you don't."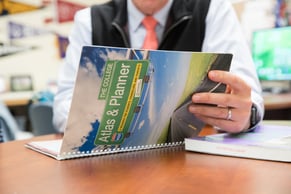 In a March 10 Wall Street Journal article, it was reported that many college officials are scratching their heads over how many applicants to admit: "Their mathematical models to predict which admitted students might accept their offers and enroll as freshmen are proving useless because the coronavirus pandemic threw most traditional elements of the admissions process -- campus visits, standardized tests, essays about extracurricular schedules -- into disarray." According to the National Association for College Admission Counseling, the nationwide yield for freshmen was about 33% in the years just before the pandemic, down from 48% in 2007. Rick Clark, Director of Undergraduate Admission at Georgia Tech in Atlanta, recently wrote that this year, yield is "more fragile and unpredictable than ever." He continued, "The pandemic has thrown all kinds of curveballs into the equation, including issues around finances, health, willingness to travel great distances from home, and so on." He said that the people who direct colleges and universities, people like presidents and trustees, don't care about variables; their concern is the enrollment goal. As a result, Mr. Clark said, "If yield drops (as it has most places in recent years), the college needs to be able to make additional offers to hit stated targets. Voila -- The Waitlist!"
Providence College's Amy Cembor said that being as honest as possible about the reality of the waitlist situation is important. So what is this reality? Ms. Cembor shared the following:
Waitlisted students are not on a numbered list.

Students are waitlisted for reasons beyond their control: size of the pool, institutional priorities, and, in some cases, finances.

During most years, only a handful of students will be called off the waitlist. Colleges cannot tell waitlisted students what to expect because admission officers are waiting for admitted students to decide whether or not they will attend. (

May 1 is National College Decision Day, the deadline for seniors to pick their college.)
On the Georgia Tech Admission Blog, Mr. Clark noted a few more things. He said that while schools do not number or rank students on their waitlist, they do watch deposits closely beginning in April, comparing those numbers with their goals. He wrote, "If they see that their geographic, gender, academic, or other demographic targets are 'soft' (i.e. not coming in at the level they are looking for), they may go to their waitlist before their deposit deadline. Otherwise, they will wait until after their deposit deadline, assess the gap between their target and their current numbers of deposits, and then begin making offers to 'shape' their class."
The question students on the waitlist ask is "What can I do to come off the waitlist?" Ms. Cembor at Providence College gives straightforward feedback:
Reply to the college to accept a spot on the waitlist.

Email the admissions counselor assigned to your high school and let that person know why you remain interested.

Send along new grades when they are available.

If financial aid is an important consideration, find out if need-based aid will be available if you come off the waitlist.

Commit to a college to which you have been admitted in case you are not called off the waitlist. This means you will need to deposit by May 1. If you come off the waitlist at another school after May 1 and decide to attend that school, you will lose the deposit you already made.

Feel good about the offers you have. Admission decisions are NOT a decree of your self worth.
Rick Clark gives similar advice. In terms of accepting a spot on the waitlist, he said to be sure you read what the waitlisting college sends and do what it says: "You may need to complete a supplementary short answer question, send mid-semester grades, or submit another recommendation letter/interview." He also makes it clear that you should not stalk the admission office: "Claim your spot, send in what they ask for, and wait. That's it!"
At the end of the day, seniors need to be patient and finish strong. Negative behavior, including making poor decisions on social media, will lead to bad places. Instead, invest in classes, engage in co-curricular activities, and focus on being a good citizen.