In general terms, a play is a form of entertainment. People go to the theater to separate themselves from everyday life and delve into another world. Often, plays are action-packed or feature fantastical events that differ drastically from what goes on in the real world. This is what separates other plays from Caryl Churchill's Love & Information.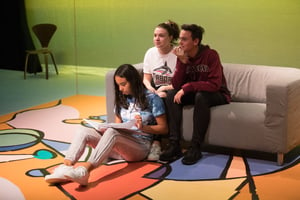 This thought-provoking journey of communication (and miscommunication) creates a world that mirrors the one we roam around in. In life, things don't go as planned. We get caught off guard, feel disappointed, and act carelessly. Love & Information puts these everyday dramas on-stage. Since Churchill purposely wrote her script without stage directions, a setting, or character names, Ms. Hawley created her own vision of what each scene would look like, and the actors made their own decisions as to how it should be communicated to viewers.
The cast of this show does an incredible job of portraying the emotions and situations displayed in this play. One unique aspect of this cast is that they are all extremely different. We have a pretty even mix of all grade levels and experiences, and we are proud to be able to debut some very talented people, such as Nina Sasakawa '20. Nina is a kindhearted person, but some of her characters are anything but. She said that it is a challenge for her to change her kind mindset to her character's rude one, but she is doing a fantastic job. Sammy Shannon '20, a senior who has been doing theater for a long time, believes that this play is unlike any other she has seen. She says that she enjoys Love and Information's scene variety because it allows her to play several different characters with different intentions.
This play is all about communication and Ms. Hawley wanted to show that not only in the acting but also in the production design. The visual arts department created a beautiful stage that represents the art of Hilma af Klint, an abstract artist. In addition, throughout the show, we incorporate sound from Ryoji Ikeda. His interesting take on music represents the erratic nature of human life and the communications within it. By putting together these various puzzle pieces, we are hoping to present a common theme: the transfer of information.
Sammy Shanno '20 encourages viewers to look for the deeper meaning behind each section of the play. Unlike other plays, Love and Information does not end with a spoken lesson. This is quite beautiful because it is open to interpretation. I believe that for every viewer, each scene will land differently.
On October 31st - November 2nd, join us in the Black Box and try to find the meaning that most resonates with you.