A year ago, my colleague Mary Kate McCain and I had just arrived back at Tabor following a week-long tour of colleges and universities in Louisiana and Texas, which we went on in early March. We knew about COVID-19, but the idea of it becoming a pandemic hadn't really struck home for the majority of Americans. I remember looking at an infographic on my phone once we were seated on a flight heading from Boston to New Orleans, announcing to Mary Kate that there were 11 known cases of COVID in Texas. Eleven. What a difference a year makes. On the college counseling front, the past year has felt a little bit like the wild west, but both college admission and college counseling offices have adapted. Changes include virtual college rep visits and interviews, the offering of an optional prompt on the Common Application related to the impact of COVID-19, and major changes in the world of standardized testing, the most dramatic change being the surge of the test optional movement.
At a webinar I attended this winter offered by Compass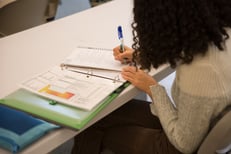 Education Group, a side-by-side comparison of 416 widely-recognized colleges and universities was offered. In 2019, 64.7% of the sampled schools required either the SAT or ACT, 34.3% were test optional, and one percent was test flexible. Flash forward to 2021. Three percent of the sample size of 416 schools currently requires the SAT or ACT and just over 89% are test optional, 37% of that number having made the switch permanently. A number of schools have even moved to test free, including Reed College, CalTech, Washington State, and most recently, WPI: even if a student sends scores to these schools, they won't be reviewed.
With this across-the-board change in standardized testing requirements, numbers of applications at highly-selective colleges and universities shot up, yet the size of each school's class will stay the same. What this leads to is a decrease in admit rates. At Duke University, the Admissions Office has received just over 49,500 applications, almost 10,000 applications more than last year and the largest increase in applications they've ever experienced. While Duke expected more applications during the Early Decision round, the increase in Regular Decision applications significantly exceeded their expectations. Given the number of applications and the students returning from gap year experiences, Duke's Admissions officers will admit less than five percent of the applicants who applied Regular Decision. Also receiving an increase in early action and early decision applications were the Ivies. Harvard was on the high end with a 57% increase in applications, followed by Yale at 37.4% and Penn at 23.4%. Dartmouth and Brown followed suit. Apps went up and the admit rates are falling.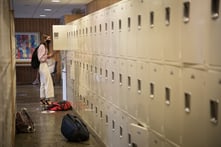 The vast majority of highly-selective colleges and universities were test optional for the Class of 2021, yet many were transparent about the value they continue to place on strong test scores. Northwestern University's website reads, "While high school grades are a strong predictor for academic success in college, the combination of grades and standardized test scores has been shown to strengthen that prediction...So while we feel confident that applications can stand strong without test scores this year, we will still find value in scores if you choose to send them." Georgetown sold themselves as being flexible about standardized testing requirements for applications to the Class of 2025, but they followed up the statement with this statement: "Georgetown values the information provided by standardized testing and will continue to consider test scores as part of our holistic review process."
What all this means at Tabor is that we will employ flexibility as we coach our college counselees. To this point in the year, we have offered an SAT School Day test and an ACT, and each test will be offered again in April. While that will conclude testing for the school year, we are already thinking about next school year and what our test offerings will look like as we consider the pandemic and how it might affect our community in the fall. As individual student scores reveal themselves, we will assist our students and families in making decisions about whether or not to submit scores. Fortunately, our relationships with folks on the college side gives us helpful insight into how best to make these decisions.