Bright and early Sunday morning, eleven Tabor students left campus to take part in Philips Exeter's 10th annual Model United Nations conference. Armed with research, our minds, pens, and the best of Tabor dress expectations, we were ready to spend our day debating the issues assigned to the committees. We represented countries in several of the committee: Disarmament and International Security, Social Humanitarian and Culture, Special Political and Decolonization, The Paris Peace Accord special committee, and the Ad Hoc crisis committee. We were assigned different countries and famous figures to represent ranging from Costa Rica to Elon Musk. By the end of the day, each committee wrote and passed resolutions that worked to combat the issues at stake. Although this was only a model of the real UN, the resolutions we crafted were well thought out and debated in order to put forth a potentially real solution that the UN might come up with.
The experience levels ranged from pro to beginner at this conference. We, along with several of the other Tabor delegates, have done MUN before, and we were joined by a few first timers. John Ho '22 and Catherine Terelak '22 were two of our first-time delegates. After the conference John said, "PEAMUN was a great conference. It was fun to be able to participate in discussions to solve global issues." Catherine added, "I enjoyed the historical crisis elements of my committee and was pleased to share my first Model UN experience with a group of delegates who were dedicated and passionate about history and debate."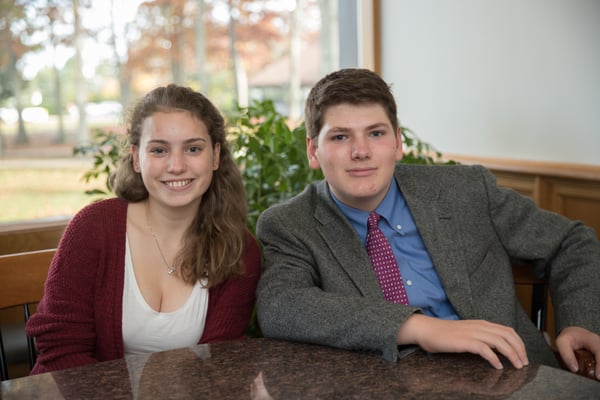 My Experience: Josephine Geraghty '19
I was in the Social, Humanitarian, and Culture (SOCHUM) committee. Our topic was human trafficking for sexual exploitation. Although not a light topic to discuss, the groups of about 120 students from all over New England and abroad jumped into the issue. Over the course of our sessions we had productive and passionate debates. Topics that came up during debate included reasons for human trafficking, border control, training law enforcement, creating a shared database, and many other things. At the end of the conference, SOCHUM passed one of the three resolutions. The passed resolution, which I am happy to have helped write and sponsor, laid out a five-point approach to solving human trafficking. The resolution called for better training of officials, public awareness, inclusive laws that allowed men to be recognized victims, stronger laws and procuration procedures, better victim support and rehabilitation, and created a system for this to be funded by willing countries and NGOs. One thing I learned that I didn't know about was the connection between sex trafficking and tourism. I represented Costa Rica, where prostitution is legal and tourism is a large industry. Costa Rica reports many cases where tourists from countries where prostitution is illegal come to dabble in prostitution. This creates a need that human traffickers fill. Model UN has allowed me to get more comfortable with public speaking. I am normally pretty quiet and don't like talking in front of large groups. After several Model UN conference, I've gotten better and more comfortable with speaking.
Josephine won the Outstanding Delegate Award for the Tabor MUN Team.
My Experience: Peter Murray '20
I received a packet of information at 5:50 AM as I climbed onto the bus and read it on the way to Exeter. The stage was set: I was to be Elon Musk. Along with America's wealthiest technocrats and media moguls, we tackled issues of cybersecurity, election fraud, and the gig economy as the midterm approached. However, things quickly developed into a power struggle as we tried to employ dangerous cyber weapons and softwares to gain political control in the United States. It was fun to participate in this elite crisis committee, on which I was placed along with the best and brightest conference attendees through a special application process.
Peter was proud to have won the Honorable Delegate Award, bringing home another award for Tabor's growing MUN team.