Tabor's annual Fall Admissions Open House is coming up soon! On Sunday, November 3rd we will welcome many visiting families to experience life at our School by the Sea. This year, Tabor's admissions office is offering a new twist on our traditional Open House program.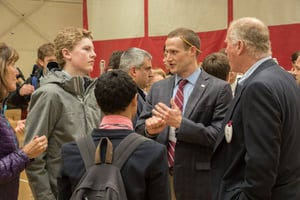 All families who attend our Open House will have a student guide dedicated to their experience for the duration of their stay and the ability to customize their itinerary. Campus tours will run throughout the day.
Here is a brief overview of the schedule for the day:
11:00-12:00: Optional Multicultural Brunch (registration required, indicate on Open House registration form)
12:00-2:30: Drop-In Registration
Ongoing: Campus Tours, Harvest Tent
12:45: Academic Program
1:10 & 1:30: Selection of Program Sessions
2:00: Head of School Remarks
2:50: Selection of Program Sessions
The "registration" period runs from 12:00-2:30 p.m. so families may arrive any time during that period. Arrival at the beginning affords more time to explore our campus with a student guide. Our marquee presentation at 12:45 p.m. will feature Associate Head of School for Academic Affairs Eileen Marceau. Head of School John H. Quirk will speak at 2:00 p.m. Afterwards, a selection of afternoon sessions will give families the chance to learn more about the aspects of Tabor that interest them most. The sessions will focus on academics and student life at Tabor, and there will be two rounds of three sessions per round. A guide will escort each family to their desired session.
Our office brainstormed ways to make the experience valuable for our visiting families as they work to determine how they will focus their independent school search and also for our faculty and students as they help us showcase the best of Tabor in a short period of time. We asked ourselves, "What will help provide the best visit experience for each individual family?" "What are the questions many of our families have at this stage of the process?" "What is the best way to structure our event logistically when so many families who consider independent schools are quite busy already?" and most importantly, "What aspects of Tabor sometimes get overlooked or haven't been showcased at our Open Houses in the past?"
It is our hope that having the chance to spend time with a Tabor student one-on-one and explore our many offerings at their own pace will provide each visiting family a personalized experience and make it a valuable and fun way to spend a fall Sunday afternoon by the sea!
Please join us!