Day 1 - 8am Friday 10/26 - Boston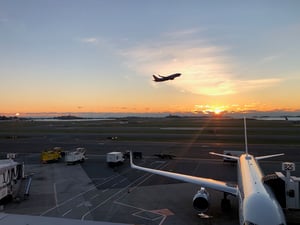 From what I understand, admissions work seems to have always been about travel. Whether to local school fairs, regional conferences or national gatherings, the work needed to find the best students for Your school can take you places. Today begins a journey that does just that. In a little less than an hour Steve Downes and I will embark on the first flight of our annual admissions tour in Asia. This International Center sponsored expedition is a whirlwind set of interviews and presentations in 7 cities of 5 countries in 8 days with over a 100 total interviews. Each stop, Bangkok, Hanoi/Ho Chi Minh City, Taipei, Tokyo, Shanghai and Beijing, has us meeting Tabor families and alums who have worked with consultants and agencies to put together a group of candidates that believe that Tabor is their dream school. This blog will follow our adventures from country to country. City to city and event to event. Join us on our exciting, and exhausting, 8 day express admissions tour of Asia.
Day 2 - 5pm Saturday 10/27 - Departing Japan for Thailand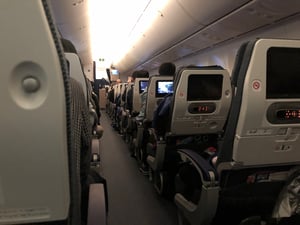 The exhausting 14hr flight from Newark to Tokyo went fairly well. Sleep came in fits and starts and I was able to add to my (what will be a) long list of inflight movies. The 3hr layover in Narita was spend stretching,eating, hydrating, staring at my swollen ankles and listening to the Sox. Right before we boarded, I listened to the homer in that ended the game. Sad. We've now begun the last leg of our trans-Pacific jaunt to Bangkok. 7 hours of flying left...today.
Day 2 (continued) - 10pm Saturday 10/27 - Bangkok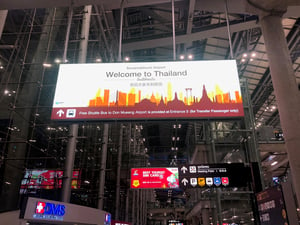 Thank you John Quirk for tipping us off to getting an APEC card! Deplaning, customs and baggage took all of 20 minutes and not long after ushering through the arrival area did we meet our hotel shuttle driver and start the 30 minute drive to our hotel. This is about when that fifth wind kicks in and while I know that I should be tired, the time difference has me in a "full Nelson". To steal a little from Frost, It'll be hours to go before we sleep.
Day 3 - Sunday 10/28 - Bangkok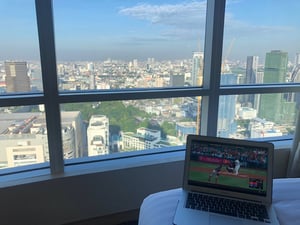 Checked in, showered, unpacked and somewhat rested. After what seemed like a very short night, Steve and I met up at breakfast to talk over the plan for the day; a little free time, lunch with the parents of a current student and then interviews and the presentation. Got it! After an ambitious breakfast we headed out for a short walk since the 87F temp seemed cooperative. An hour later we returned exhausted but with thinner ankles. The timing worked out for Game 4 of the World Series so the rest of the morning was spent riding the roller coaster of Sox fandom. What a game!
Day 3 - 5pm 11/28 - Centara Hotel Bangkok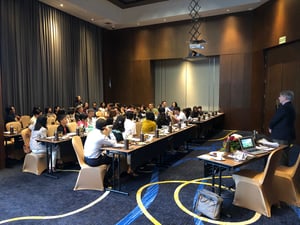 The half-dozen interviews I had went very well. All six were coming from either Shrewsbury International School or the New International School of Thailand, and they were very impressive. It always amazes me how much they know about Tabor and how specific their questions about programs and activities are. Steve and I finally found a minute to share our thoughts and he was just as happy with the group he interviewed. Our recent applicants from Thailand have increased in number and in competitiveness and meeting this very strong group is a great start to this tour. After a short break, it was time to begin the presentation, which was opened by very kind comments from current Tabor parents, who attended the event and managed the interviews. While I'm confident that they all had wonderful things to say, although they did so in Thai, I was reassured by the nods and smiles of the families who took time out of their Sunday to bring their sons and daughters to meet us. The event, jokingly sponsored by strong Thai coffee, was a hit and we spent the rest of evening having dinner and catching up with a few Thai Tabor families. We reviewed the interviewed students, got feedback on the presentation and laughed a lot. Day 3 was both long and successful, as Steve and I both expressed optimism for admissions in Bangkok and the possibility of adding to the Tabor Thai family.
Day 4 - 6am 10/29 - Depart Thailand for Vietnam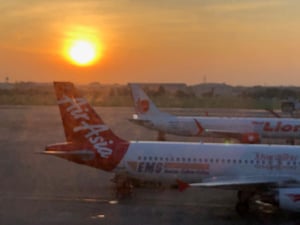 Goodbye Thailand and hello Vietnam. Now considered a surging economic East Asian nation, Vietnam has a very healthy market for American boarding schools. With four Vietnamese students currently enrolled at Tabor, all doing very well, we are excited to find a few more . On this part of the tour, Steve and I have split up; him headed to Ho Chi Minh City in the south while I fly to Hanoi in the north. Although in different locations, we will both meet with students from the consultant AEG (American Education Group). With a little bit of time between check in and my interviews, I'm hoping to walk around Hanoi a bit and perhaps find a nice bowl of pho.
Day 4 - almost midnight - Hanoi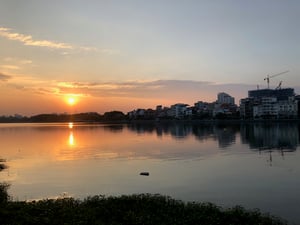 First and foremost I arrived to the hotel with time to tune in to the last couple innings of game 5. Congratulations Red Sox! After a short rest I was driven to AEG where I was set up to interview 8 students. The candidates, all from international schools in Hanoi, were very impressive. They were fluent, excited and engaging. Of course we talked about Tabor and their interest but other topics included English Premiere League soccer, the Celtics and Lakers, disappointing DC movies and how sad it was that my stay was so short. After wrapping up I was brought back to the hotel with about an hour or so to review notes and close my eyes. At 7pm the ringing of my room phone pulled me suddenly and mercilessly out of what was a short but deep nap. I freshened up quickly and headed down to the hotel lobby where I was to meet two kore candidates from a different consultant. Although a bit foggy while in the elevator, I rallied and greeted the small group with a big smile and hardy handshakes. The two girls,Linh and Linh, were wonderful and both talked a lot more than o did...in a good way. Both had interesting stories but were about as different as two young ladies could be. While was one Uber social, and talked a lot about her friends, the other was a lot more reserved but intense, especially when talking about her family. Once the interviews finished a bid them goodbye and went out to get a taxi. There was one more appointment to attend, a meeting with a family and their consultant, at their home, for dinner. The dinner meet-and-greet went about three hours before they asked about my early departure time the next morning. Within minutes an Uber-like service arrived to bring me back to the hotel. The family, who were incredibly generous and hospitable, hope to visit Tabor later this winter. It was a wonderful night of hardy laughter, a bit of bragging about Tabor's programs, teachers and community (their older son is a junior Williston) , and a heavy dose of geopolitics and Vietnam's recent economic growth. Informative and enjoyable, I don't remember yawning (even once) and the email exchanges in the morning reflected a truly nice night. Go TA!