This week, 35 students and faculty arrived in Chiang Mai, Thailand, for a week of service after a weekend of travel from the U.S. They are there for a cultural exchange, as well as to engage with the local community to help with a house building project and to teach English to local adults.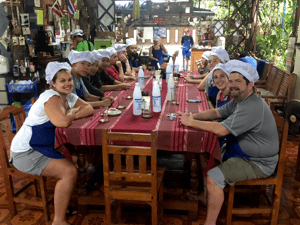 The trip to arrive in Thailand, 20 hours of flying, is an experience in itself! After crossing the International Dateline on their flight from New York to Shanghai, China, the students boarded another 6-hour flight to Chiang Mai, Thailand. Our American students on the trip will certainly have a new understanding of the commitment so many of our international students at Tabor make to be with us, so far from home.
Our first news came early Monday morning from organizer Steve Downes, faculty, who reported, "Tabor service program arrived in Chiang Mai early Monday afternoon. Everyone arrived safely and we are now heading to a hotel and a cooking class this evening. It's great to be in Thailand and we are looking forward to nine days of service."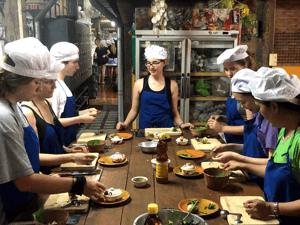 As Steve mentioned, the group wasted no time to experience some Thai culture on their arrival. They enjoyed a Thai cooking class, preparing their first dinner in Thailand! The next morning, (Tuesday June 12) they embarked on a 3-hour journey overland by truck to Pakhalam Village where they will stay for two days to learn about and help care for the elephants being rehabilitated at the De'Kashor Elephant Home.
After their work with the elephants, they plan to trek to the Lahu hill tribe area to experience bamboo rafting and a little white-water rafting before heading to their next work destination in nearby Pumuen Village.
A three day stay is planned in Pumuen Village to include building a house with a local Lahu tribe family. They will also spend time with 50 students at a nearby Police Academy to teach them English language skills through some fun games. On their last night in Pumuen Village, before the long trip home to Boston, the students will take part in a Farewell Dinner that will share more of the culture of the local area.
Since 2014, Tabor's Center for International Students has been offering the chance for summer travel with a cadre of Tabor faculty to remote areas combining fun and service. It is no surprise that these trips have been more popular with our students than the more tourism-oriented trips we offer as they combine service with cultural exchange and improved global understanding.
As the trip continues this week, they depart next Tuesday, our students will be posting to our Tabor Talk Blog to share their interpretation of their experiences in the coming days! Be sure to follow them here.