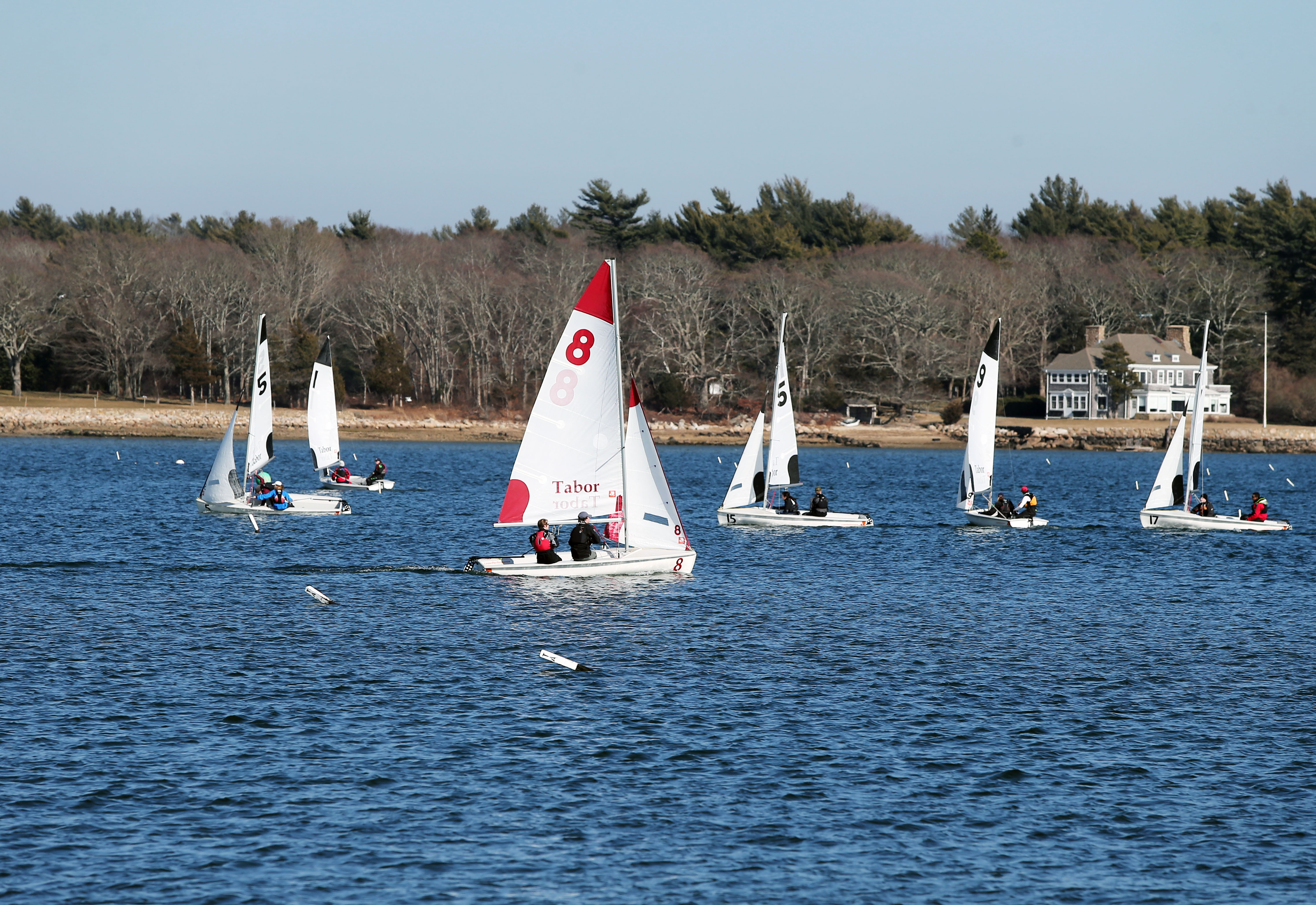 This morning, members of the Tabor Academy sailing team departed for Charleston, SC to take part of the Interscholastic Sailing Association (ISSA) Fleet Racing Nationals for the Clifford Mallory Trophy. The Mallory trophy is high school sailing's oldest trophy dating back to 1930 when Headmaster Lillard and others started the sport. Of the twelve founding schools, only Tabor, St George's, The Hotchkiss School, and Choate Rosemary Hall still remain out of the 500+ high school programs that exist nation-wide today. Tabor qualified for this event by winning the New England Championship (the O'Day Trophy) on April 17th. The other schools come from all over the country; Four each from the Pacific Coast, Mid-Atlantic, and New England, three from the South Atlantic, two from the Mid-West and the Northwest districts, and 1 from the Southeast.
Tabor has won the Mallory trophy 6 times, the last time in 1986. Fleet racing is not what the teams in New England focus on as much as the rest of the country. In sailing there are three major disciplines.
Match Racing, which is what the America's cup is, features one boat against another, winner take all.
Team Racing, which is a majority of our season, involves three Tabor boats against three boats from another school. Competitors race around a course and are awarded points based upon their finishing position. To simplify the explanation, the team with the lowest total number of points wins the race, and a meet is usually best of three or best of five races.
Fleet racing involves one Tabor boat on a course with one boat from the other 19 schools. Again, points are awarded equal to finishing position. At the end of the regatta, the total points are added and the lowest total wins. In high school and college fleet racing, each school has two boats, placed in either A-Division or B-Division. All the A boats race against each other and all the B boats race against themselves too. Total the points for both divisions to determine the regatta winner.
For those who want to follow our progress this weekend, live scores will be posted on the ISSA scoring website. You can also follow the regatta on the ISSA Facebook and Twitter pages and of course you can always follow the Sailing Seawolves on Twitter and Instagram at @TASailing.
Win, lose or draw, I am excited to take this journey with the squad that is representing your school!
All-A-Taut-O
And Coach Conley is taking a group of underclass sailors to the Downeast Invite at Maine Maritime Academy in Castine, ME this weekend too. So Tabor sailing will literally be from one tip to the east coast to almost the other. You can follow that regatta on Tech Score too - http://scores.hssailing.org/s16/