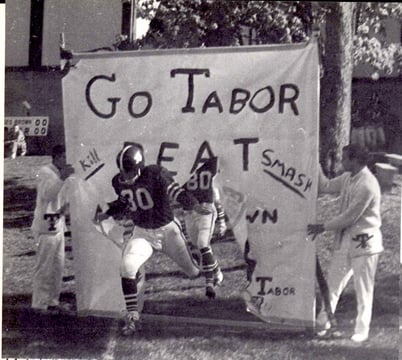 Tabor Day is returning, and we are looking forward to it! Recollections of Tabor Day during the Octobers of the mid-1970s include a beautiful fall Saturday each year, with the crisp aroma of Buzzards Bay salt air mixed with the campus's scent of the still-green grass and of the colorful leaves at the start of their decline. The arrival of families and of returning alums enlivened the campus and filled the sidelines of the fully scheduled athletic events. And it was always great to see the recent grads with whom you may have shared a TA class or a team … or a few humorous episodes.
Back then, four decades and fifty pounds ago, the Alumni Tent was forbidden territory for students. Nevertheless, we could watch from nearby the camaraderie of Tabor alumni, and clearly hear each year the "Bourbon Street Paraders", a Dixieland band with Lee Childs on the clarinet, tooting its notes across the campus and across Sippican Harbor well into the evening. When our time came
along, just a few months after graduation, it was wonderful to be beneath the big canvas with Duff, Mr. Pierce, Mr. White, Dino and so many other great faculty members. Further, no one who spent more than 20 minutes in that tent could say that they had left without having met new friends from other classes of other decades and having had many good laughs. In fact, Headmaster Wickenden worked the tent, facilitating conversations and introducing guests. And the visiting ladies of various ages — remember, it was a boys' school back then — looked marvelous and enhanced the scenery, the senses, and certainly the conversations!

Alumni Weekend should never replace Tabor Day; and Tabor Day should never replace Alumni Weekend. TA has been a tremendous host toward us each June, when we have our time with our classes and with the campus to ourselves. However, in some respects, those June weekends — as enjoyable as they always are — can be a bit like visiting Fenway while the Red Sox are away. Tabor Day, that one autumn day, has the athletic games, the receptions, the parents of current students, and the students themselves. We see the campus again enlivened by those for whom it exists. My family and I are enthusiastically looking forward to the return of Tabor Day this fall!