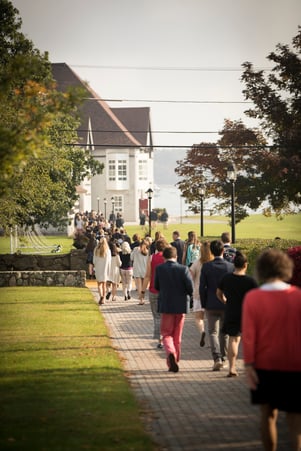 The boarding school experience is probably starting to take a bit more shape in your mind by this time of year. You've looked at websites and talked to representatives, poured over materials, and visited some schools. You are starting to imagine yourself in some of the places you have visited, engaged in classroom discussion, playing sports, living in a dorm, and making new friends. You may still be wondering what it is like to be away from home. Maybe you can imagine having a roommate or living in your dorm room, but what will your day look like, exactly? What will you do when you have time to yourself?
A typical Tabor day (if there really is a "typical" day!) starts just before 8:00 a.m. After grabbing breakfast in the dining hall, students head to their first of four seventy-five-minute class periods. After the first period, we gather for Community Time. Another class, then lunch/class or class/lunch follows Community Time. Office Hours run just before the last period of the day. Class ends at 3:15 and students head off to their activities. After practice, rehearsal, or art studio time concludes around 5 p.m., students have dinner and settle into their dorms. Study Hall happens every night from 8-10 p.m. and students will begin heading to bed when they have finished their homework and socialized with friends.
A free period during the academic day and the time between dinner and study hall are the most significant free times. Students may use this time to complete homework, catch up with an advisor or teacher, use the library, visit the ASSIST Center, or gather with friends in the Beebe Grill. In the evenings, you may find students cleaning up their rooms to get ready for study hall, doing a load of laundry, meeting with a teacher, or visiting with friends. We asked Tristan Mulleavey, a boarding senior from New Hampshire, how he uses his free time. With a packed schedule that includes Tabor Academy Student Council and Student Activities Committee as well as being a proctor and a varsity athlete, Tristan reports, "I may spend an hour before study hall studying if I have a lot of work. For the most part, I study during study hall and free periods." Our students report that gaining independence is the best thing about boarding at Tabor, and this is one of the times that students will test out that independence by deciding how to use free time.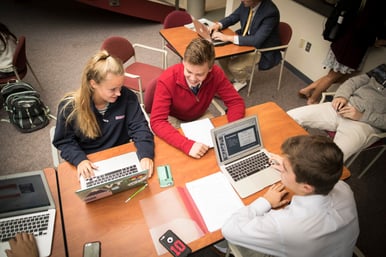 Popular spots on campus where students may spend free time include the newly refurbished Lillard Living Room, the Library, a table in the Academic Center hallway or student mailbox area, or in a booth at the Beebee Grill. Tristan says that his favorite place on campus is the dining hall. He says that it is the origin of many friendships. He has what he likes to call "Dining Hall Days" where where he spends a large chunk of time in the dining hall doing homework and hanging out with different kids that pass through. Tristan's experience illustrates that at boarding school, sometimes the simplest things have the deepest impact.
Some of Tabor's co-curricular activities will take place during the evening hours between dinner and study hall such as our weekly community service trips to nearby New Bedford or the vocal music ensembles. Some students may be going from their primary co-curricular activity, to dinner, to a club meeting , to study hall more than one time per week. At that pace, truly unscheduled time may very well be spent taking a break!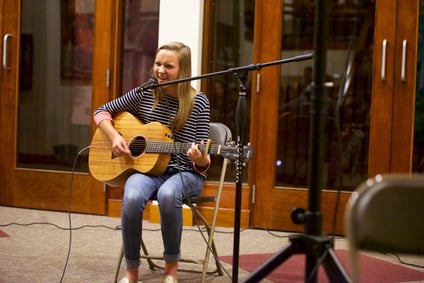 On the weekends, students have Friday and/or Saturday night as a free evening. There are activities planned throughout the weekend. Our Director of Student Activities, RJ Swift '08, runs his program with a student-centered approach. He says, "I look to the students for help in designing the weekends. I have eight students who participate on a Weekend Activities Committee with me. I let them drive the process and step in to offer advice where I feel it is needed." Swift believes that, "If the students are enjoying themselves then that is all that matters. It does not matter how many activities they choose to do, but rather the quality of each experience."
One highlight of weekend activities at Tabor is the way in which students and faculty interact. As Tristan says, "My favorite scheduled activities are anything hosted by faculty members. I love visiting their homes and cooking with them or watching movies. It is a very unique experience to be invited into a faculty members' home and be able to hang out with them outside the classroom." According to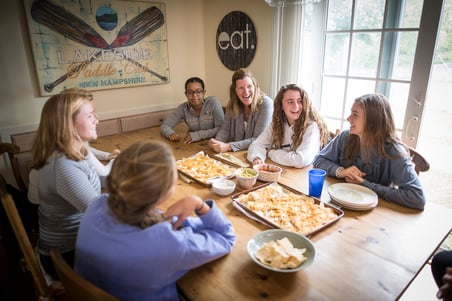 Swift, "The faculty are unbelievable at listening to the students and offering up activities that they think the students
would enjoy. If it is Ms. Parente holding a Pinterest baking challenge or Mr. Dineen
performing at Open Mic, it is truly is a community effort!" Examples of faculty offerings include Open Mic Nights, games nights, CouchSurfing, and cooking and baking Open Houses, knitting and movie nights, futsal tournaments, trips to restaurants outside of our Tri-Town area, and rock climbing, hiking, and mountain biking day trips. Swift pointed out that faculty involvement is often what brings students out to participate in the activities.
The lessons of a boarding school education are not always conveyed in a classroom. From
friendships formed in the dining hall to watching your favorite teacher perform at Open Mic Night to enjoying fresh brownies straight from your house parent's oven, the experiences that last the longest are the ones you haven't thought of yet.