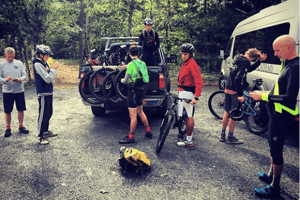 Seawolf Cycling is Tabor's mountain bike club. We are one of Tabor's most active clubs, having officially met almost twice each month this fall and early winter. We frequently ride trails all around Tabor, from Rhode Island to the Cape. We ride on Sunday mornings, which are normally free of other commitments. Anybody can join our rides, and there is no prior mountain biking experience needed. Mr. White, Seawolf Cycling's head faculty sponsor, usually leads us through the trails as one big group, but on occasion we split into two groups: advanced and beginner.
The terrain we ride varies from trail to trail, and we ride everything from the flat, fast singletrack on the Cape to the giant puddingstone rocks in Swansea. Almost any bike can handle the trails around Tabor; about half of us ride hardtails, bikes that only have suspension for the front wheel, and the other half rides full suspension bikes. We frequently ride the West Barnstable Conservation Area on the Cape, it is colloquially known as the "Trail of Tears" because of the challenging parts of the trail. The trail system boasts nearly 21 miles of trails ranging in difficulty: green dot trails are the easiest, blue squares are intended for intermediate riders, and black diamond trails are for expert riders. We typically stay on the green and blue trails, however, we occasionally challenge ourselves on some black trails.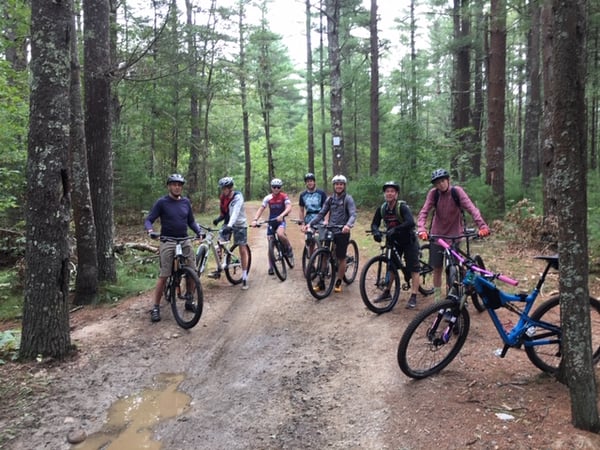 Seawolf Cycling also presents several community service opportunities to its members. Most recently, we did the Toys for Tots ride on the Cape. We brought a group of 14 riders made up of students and faculty. Each of us brought a toy to donate to the Toys for Tots Foundation, then we joined over 100 other mountain bikers and rode the trails in the beautiful December weather. Last spring, after several large storms moved through the area, a handful of club members went out armed with rakes and cleared miles of trails in the Sippican Land Trust located just behind Tabor's campus. The Sippican Land Trust trails are a hidden gem in Marion, as there are miles of trails that are just a short bike ride away. The faculty sponsors of the club are currently working on a "Tabor Trail Certification," which would allow riders with experience on the local trails to ride them whenever they please.
Seawolf Cycling is always looking to grow, and Mr. White and Mr. Dodge are extremely helpful in finding a bike to purchase or to borrow for a ride. If you are already interested in riding or are looking for a new way to enjoy the great outdoors all year long, Seawolf Cycling might be the right club for you! Hope to see you out on the trails!