Aidan shares a bit about the rare ingredients in the makings of his summer of 2018!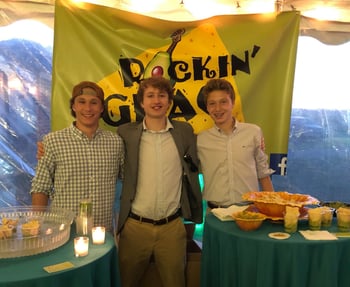 I hate guacamole.
Well, I used to. Four years ago, I wouldn't go anywhere near that green, mushy food that people seemed to be so attracted to. So how did I start a guacamole business? I gave guacamole a try and it turned out to be much better than I anticipated — as most other guacamole pessimists have discovered. Thus, I began making my own. Every day after school in 8th grade, I would crack open an avocado and mix it with something different each time, perfecting a recipe.
The summer going into my sophomore year at Tabor, I had the idea of selling guacamole at our local farmers' markets. With a strong background knowledge of Shark Tank, I had to be ready to start my own business. I approached the manager of the Dartmouth Farmers' Market the day before the first market and simply asked if I could sell guacamole there. Not only did I learn that the market was already full, but I was bombarded with several other impracticalities of pursuing my idea. I did not have the proper certifications, and I was not approved or inspected by The Board of Health. I was disappointed, but I was not going to let this deter me from starting the business.
During my junior year, my microeconomics class taught by Mr. Britton had an assignment to create a business plan. This was my chance! Immediately I shifted my focus to guacamole, and began doing extensive research and calculations. Thus, Rockin' Guac was born! I knew I would need partners on this business venture, which led me to ask Ryan Zeien '19 and Wes Kelliher '19 - friends who have lived in my dorm, Pokoik, since freshman year.
We began to plan everything out. First, we needed to find a distributor for the produce. Second, we had to find a commercial kitchen to work out of. Third, we had to map out where we were going to sell. Nothing was simple. Every aspect of the business lead us on some kind of a tangent. For example, to work out of a commercial kitchen, one needs liability insurance. To get liability insurance for a food establishment, one needs a ServSafe Certification. To obtain a Managerial ServSafe Certification, one must take an 8-hour class and pass a 90 question multiple choice test. Even when I thought we were ready, there was always more to do.
We started the first day of summer with a bang. The day after graduation, Rockin' Guac catered a fundraiser for over 500 people at the Community Boating Center. We chopped and prepped ingredients until 3:00 in the morning. The day of the event, I had SAT subject tests at 8:00 AM. When I got back from the SATs, it was a race against time. We pitted 100 avocados and filled a large, 30-quart metallic bowl, just in time for the start of the event at Fort Taber in New Bedford, MA. When we returned to our kitchen, we walked into what looked like a war zone. There was guacamole on the ceiling, bowls stacked precariously high, and avocado pits everywhere except in the trash can.
Overall, I was most surprised by the response we got from our customers. We quickly found that people love our product and we sell out at nearly every event we attend. People were messaging on Facebook days after our page was created back in March, asking us if we would be able to attend events and weddings all around New England this summer. On opening day at the Huttleston Marketplace, we sold out within the first hour! We had to rush back to our kitchen to make more guacamole; we made almost twice as much in half the time, and sold out again when we returned! For those wondering what makes our guacamole so good, the simple answer is to come by and try it yourself! Rockin' Guac can be purchased every Tuesday at the Old Rochester Regional Farmers' Market, on Fridays at Buzzards Bay Brewery in Westport, and on Saturdays at Huttleston Marketplace in Fairhaven. See you there!