A couple of years ago I stumbled upon a YouTube channel called Wicked Salty. The videos were about a guy from Massachusetts who bought a small sailboat, fixed it up, and made way to the Bahamas. I was hooked as the sense of adventure and freedom from his videos captivated me.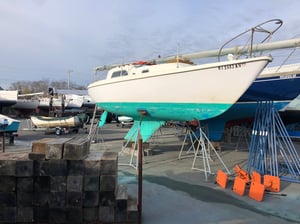 Flash forward about five years to the beginning of my senior year at Tabor. Having seen some of my friends complete senior projects, I had a vision to do one of my own. The goal I had in mind was to find an old, small sailboat that had seen better days, refurbish it, and sail around Narragansett bay during the summers. The boat would serve as a platform for adventures to Block Island and different coves around Rhode Island and Massachusetts.
One day in mid-September I stumbled upon the perfect boat. Floating in Newport, RI, she is a Pearson 26 from 1973 that needs a lot of cosmetic work but is structurally sound. This "classic plastic," as they are often referred to as, is a solid fiberglass construction with an iron keel. The paint may be flaking and the cabin a bit dull but the possibility for great adventures is all I can think about.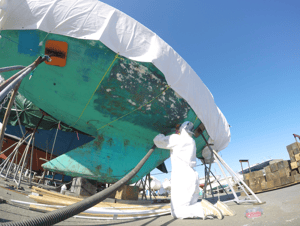 Due to the magnitude of the project, I began my work early this winter with the goal to complete as much of the interior as possible with the hopes of completing the exterior this spring. With the guidance of David Palmer, I was able to complete most of the interior this winter, with just a bit more painting and installation to do before it is totally complete. The exterior remains a different story.
Way before the world as we know it was turned upside down, the Tabor sailing team had a plan to go to Bermuda for a spring training trip. When this trip was canceled, my friends Henry, Felix, and I all made the decision to still go and stay with Felix's family in Bermuda a few days before returning to school for mini-camp. A couple of days after arriving everything started to explode on the East Coast and flights were canceled. As I write this from Bermuda on April 30th the next flight to the U.S. is not until June 1st. Obviously, this has thrown a massive wrench in both my project and dreams of cruising this summer. When I return, my family and I will work as much as we can on the boat in our free time given the circumstances in hopes of having it in by August. You can follow the progress at https://www.wemplephoto.com/the-refit or on Instagram @wemplephoto.
I greatly look forward to one day setting sail, but until then will be working here on smaller projects.