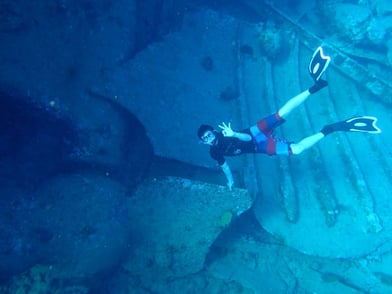 The School by the Sea is a nickname used to proudly state the unique opportunities and experiences that Tabor's location offers. One of the defining factors that compelled me to apply to Tabor was the hands-on pedagogy that places the concept of understanding over the task of memorization in all classes, but I was most impressed by the courses taught in the Marine and Nautical Science Center. The curriculum of these courses takes full advantage of Tabor's defining feature by basing labs and lectures off of ecosystems and organisms that can be found right outside the classroom.
The REEF program is no exception, extending this approach beyond Marion, and provided further confirmation of my first impression of Tabor. REEF is the epitome of hands-on learning, teaching students the fundamentals of "patchy necrosis" epidemiology and etiology and coral monitoring before sending them into the field to apply and further their knowledge.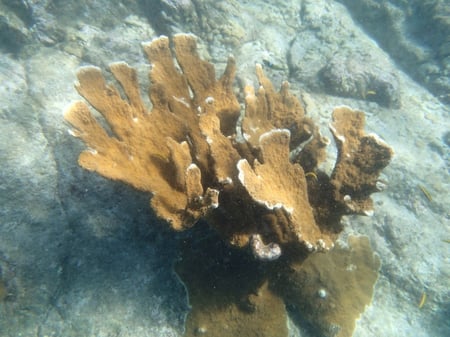 Tabor has had an active research program in the United States Virgin Islands since 2004, primarily focusing on the recovery and mortality of Elkhorn coral populations. In preparation for the triennial voyage, a select group of students learn a curriculum surrounding the critical work that we will be completing in the Caribbean. This year, the REEF program has presented students with essential knowledge through a series of lectures and labs. During lectures, students have learned about the previous research Tabor has completed in the USVI, the current threats and conditions Elkhorn coral faces today, and how to deploy and use the devices we will be using in the field, among other topics. Labs are used to apply the knowledge learned in lectures by practicing the deployment of Marotte HS drag-tilt meters, monitoring the health of photographed Elkhorn coral, and measuring chlorophyll-a levels of the harbor water.
Although some students have not quite processed the gravity of the work we will be completing, I feel unbelievably privileged to have access to this once-in-a-lifetime opportunity. This program is offering high school students the opportunity to complete research that could heavily influence the future of an entire coral population. The information we will collect, regarding the health of the coral populations and water quality, will provide the foundation for hypotheses that could facilitate positive changes in relation to marine environmental awareness in Saint John, and possibly throughout the USVI. The REEF program is unique to Tabor and provides students with an equally unique opportunity to pursue their scientific interests, learn more about the health of coral populations in the USVI, and get a taste of field work that is usually not available until graduate school. I can't wait for my chance to dive in and apply myself to this research when my group joins the team in the USVI this winter