I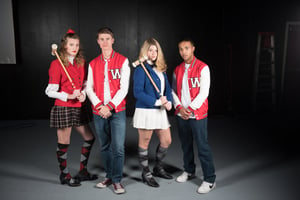 f you happen to walk through Hoyt, the sun dipping under the harbor's horizon, you might hear strong melodies drifting from the chorus room, or the sound of the table saw in the scene shop. Perhaps, you will even see costumers carrying new carefully-chosen pieces of clothing, or cast members practicing lines in the lobby, perfecting each delivery.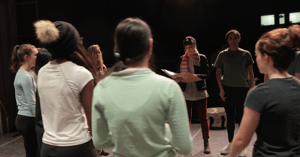 Heathers, this year's winter musical, thus far has been no easy feat. The show is humorous and dramatic, while encompassing serious subjects including bullying, sexual harassment, body image, homophobia, suicide, and school shootings. The cast agrees just how important it is to address each subject of the show, no matter how difficult. Kelsey Boch (who plays Heather Chandler), reflects, "I would like to think no one goes through these issues, but I know that people do…" the musical conveys "they're not alone in all of this." Tanner Rosa and Connor Cook (who play Ram and Kurt) mentioned the cast is "coming together, starting to bond more," everyday onstage.
Backstage, there are many new faces in the tech team (led by Mr. Van Voris and Mrs. Kistler) who are working hard to transform the stage. Two returning members strive to master lighting design for the production. The head lightning designer, Garrett Horton, shared his thoughts - "I think for a fairly new crew, they've performed well, taken on new challenges, and so far have excelled. Most of the main set is built, just a few touches to put on it."
Upstairs, racks of clothing accumulate as we slowly approach opening night. Peter Cheney, now in his third season of costuming, stated, "We feel like we've been closer to each other this year." When I asked Ms. Su about her favorite aspect of costuming (this is her first year leading the program), she proclaimed "I have the best team!" Other fresh faces include Ms. Hawley (who is co-directing alongside Mr. Howland), Dr. Zhou (music director) and Ms. Williams (choreographer) - each one bringing inspiration and energy to the Fireman auditorium.
There is no doubt the cast and crew aim to perform Heathers, the Musical to its full potential - captivating and educating each audience member. Mark your calendars for February 14th to experience a remarkable show - perhaps unlike anything seen before on the Hoyt stage.