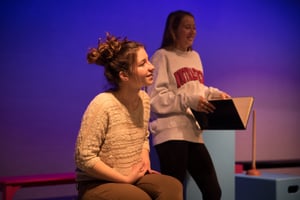 Once upon a time 12 student actors and an ambitious teacher-director decided to portray an un-fairytale. They faced many adversities along the way, such as ill cast members and the many difficulties of putting on such an elaborate play. Each day a new element was added, the cast enjoying themselves the whole way through, everyday finding something new to crack up about.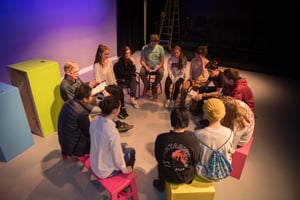 When analyzing Rapunzel, Snow White, Hansel and Gretel, Little Red Riding Hood and Cinderella through a more modern lens, many of the thematic flaws were revealed and we have taken advantage of them to write some new outcomes for these old characters from the Grimm Fairy Tales. There are feminist monologues, challenged stereotypes, characters broken in half, and more, all packed into 75 minutes of fun!
As my first-time doing drama at Tabor, I can say this experience will definitely be one I remember as I look back at the highlights of my high school career. Fiona Moore '20, another rookie to the world of drama, has also been having a good time. "I'm very proud to be a part of this unique group, and have enjoyed every minute of my introduction to the drama program. The show is super fun!" Fiona's comments indicate both the enjoyment and pride the entire cast feels for this show we've been working on for months. Seasoned actor, Leah Kleinfeld '20, agrees saying, "I love that this show has allowed us such a creative platform to try new things and explore different senses of humor."
We reveal our satirical themes, with a bit of crude humor, February 21-23 in the Black Box. Come watch as we pull together a hilarious play mocking the misogynistic and exaggerated stories many of us grew up on. See you February 21-23 at 7:30 PM sharp. Reserve your space at the switchboard.