We're preparing for our first big admissions event of the year! Our annual fall admissions open house will take place on Sunday, November 4th. The day will include an introduction to our academic programs, specific events showcasing residential life and unique School by the Sea programs (Oyster Farm! S.S.V. Tabor Boy! Waterfront Sports! Oh my!) a student panel discussion, and a co-curricular opportunities fair. That means… anything you could imagine wanting to get involved in outside the classroom!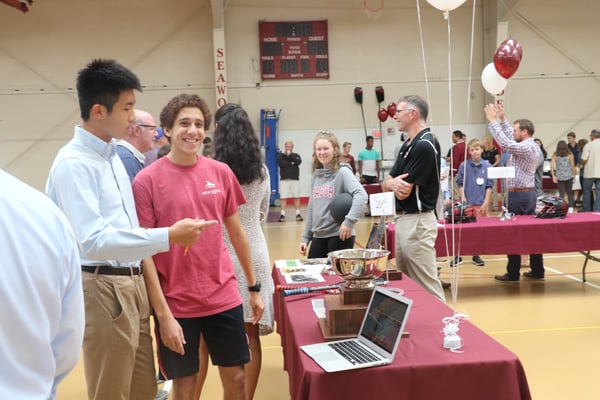 Here are some great reasons to sign up for our Open House if you haven't already!
You will have a chance to meet the people who are leading Tabor in a time of great excitement at our school! Hearing from our Head of School John Quirk P'20 and Associate Head for Teaching and Learning Eileen Marceau will give you a sense of how we have shaped and continue to shape our community of learners at Tabor.
This is a great way to meet other families who are considering Tabor. Make some new friends while you are here! Some Tabor friendships are made at admissions events and last a lifetime.
Without a formal tour or interview, the Open House is a low-stakes event in what is a process that can at times be overwhelming. There is nothing evaluative about this day….except for your evaluation of whether or not you want to invest in this process with us!
Our annual multicultural breakfast precedes the Open House! This event features GREAT food, an additional student panel, and the chance to learn about how Tabor creates learning opportunities for our diverse, global community.
If you are already coming to the Open House, here are some tips to maximize your experience:
Make a list of things you are hoping to see and learn on your afternoon at Tabor.
Make a list of the people you'd like to meet at our Co-Curricular fair. You could even email them in advance and let them know you'd like to speak with them! The directors of our performing and visual arts and athletic programs are on our website under About Us, Faculty/Staff Directory.
Decide on one or two questions you hope to ask at the student panel discussion. You can ask them about student life, academics, weekend activities, sports, school culture, teachers, homework….they're excited to share Tabor with you!
And, for those of you here in Massachusetts and points North…. Never fear, the Patriots are playing at home, but it's an 8:25 p.m. kickoff so you'll be out of the area in plenty of time!