Senior Dorm Proctor, Phoebe Dias '19, shares some insight into making the most of your start, right from the start!

Dear Freshman Year Me,
Happy Move-In Day! I know how nervous you are, so I'm here (from the ~future~) to tell you just how okay you are going to be.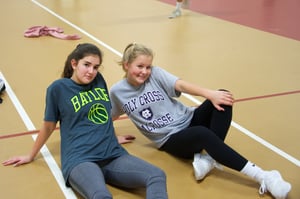 First things first, you are going to forget your pillow and sleep on a rolled-up sweatshirt for the next two weeks, so, if it's not too late, go grab that. But then, you can relax, you have everything else. All your new dress code clothes, a fan for the first few summer nights, your toiletries, pictures and posters to make your dorm room feel just a bit more like home, and twice as many t-shirts as you will ever wear - everything is in the car. Wear something comfortable, you've got a few trips to make from the car to your new room today.
Next order of business: tonight you're going to share a room with a girl you've never met. I know it sounds weird right now, but I promise by the time you go home for Parents' Weekend, she'll be your best friend. She is a good person to share all of your firsts with, someone to sit with at your first lunch, a familiar face to find in a crowd of new students. Get to know everyone in the dorm. All the other new kids are going through the exact same thing you are. And the older kids have already been through it (and survived!!!!). Don't be afraid to ask them for anything, I promise they WANT to help!!! The proctors can help you with anything, we've already been back at school for a few days anxiously awaiting your arrival! So, ask them how to get to your first class, how to log into the Wifi, anything at all. We love our school, and will jump at the opportunity to help you love it too. Plus, if you get to know everyone in the dorm, that's at least 20 new Instagram followers, a clear benefit to branching out!!!!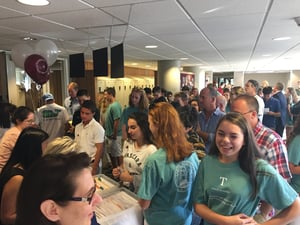 Finally, I know you're feeling a lot of emotions - and I promise Mom and Dad are feeling them even more. Mom will cry today (and be mildly offended when you do not), so give her a good long goodbye. You are in a great place, so let them know you will be okay. Your first move-in day might seem terrifying, but I promise by the time it's your last, you'll wish it wasn't.
With love,
Senior Year Me
P.S. Think of a good fun fact about yourself now, because you will be asked for one countless times in the next week….and….don't forget to have fun!