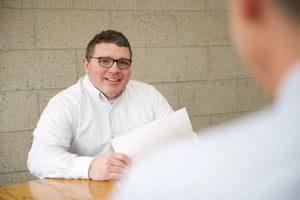 In early December, Tabor Academy's application of Mind-Brain Education (MBE) scientific research and partnership with the Center for Transformative Teaching and Learning (CTTL) evolved a new dimension. In collaboration with faculty from Tufts University Institute for Applied Research in Youth Development and the Johns Hopkins University School of Education, the CTTL hosted the first convening of MBE and Whole Child Coaching at the United States Olympic Center in Colorado Springs. Tabor was invited to represent the independent boarding school perspective from among the Mind-Brain Education-aligned educators partnering with the CTTL. According to the CTTL Director, Glenn Whitman, "Tabor's Athletic Director, Conan Leary '97, proved an important and compelling voice – as a coach, administrator, and educator – and Tabor shined as an exemplar of how schools and non-profits might incorporate MBE research for durable, life-long learning and well-being. It's evident Tabor's faculty-coaches understand what informed, intentional, and thoughtful development of coach-athlete relationship at its best could be." Tabor was a valuable contributor among an ambitious peer group that included the US Paralympic Committee, the Bezos Family Foundation, Texas A&M, Chan Zuckerberg Initiative, The Aspen Institute, and the US Olympic Committee.
Early in our partnership with the CTTL, Tabor faculty focused on applying MBE research in our classrooms. In short order, it became apparent that the deep learning skills and sensibilities could be leveraged across the range of learning opportunities for our students: arts and athletics, residential life, advisory, and our Diversity, Equity, Inclusion endeavors. We began exploring these multiple learning facets with the CTTL and this first-of-its-kind convening brought together youth-to-university level coaches, mental health experts, academic researchers, school administrators, and athlete development organizations. Why whole child coaching? The experiential learning value of athletics is unparalleled, as the feedback loops are continuous, and no grade is necessary to understand how much learning is occurring.
The driving questions for this inaugural convening? "How might we integrate the science of learning and development with our current understanding of how each unique athlete's mind and brain learns, works, changes, and thrives?" Starting to answer this question would lead to innovative responses to related provocations: "Why do 70% of young athletes quit organized sport by the age of 13? and why are attrition rates higher for females?" and "How do we elevate the awareness and training of coaches to fully manifest the important role they play in the life-long development of the whole child?" To this last question, Tabor occupies a particularly enviable space where our coaches also serve in the classroom, the residence halls, and as advisors – "whole child" is Tabor's emphasis every day, all day.
With this view of sport as another vehicle for human development, the convening group will continue its work to explore avenues for creating meaningful and accessible content, training, and similar resources dedicated to expanding coach competencies and the perimeter of possibility via sport for all youth – across all identifiers – "including positive mental and physical health, life-skill development, quality of life, and longevity." Thanks to Tabor faculty, Conan Leary '97, and The Center for Transformative Teaching and Learning for your collective leadership!