By Tessa Mock '21, Log Staff Writer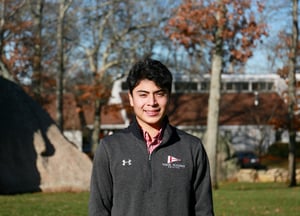 If you've ever been to an All School Meeting where Felix Cutler is playing one of his enchanting piano ballads of rap and pop songs, then I'm sure you understand why he is this month's featured musician in The Tabor Log.
Felix says he has "always had a connection with the piano," and he feels music has allowed him to "express emotions that [he] can't always put into words." When asked why the piano seems to be his instrument of choice, Felix said, "The piano has always had a connection to me, and it is something that I have always been curious about."
Felix says he chooses to play songs that he knows are popular among the teenage age group. He stated, "At Tabor, I pay attention to the audience and I learn songs that the audience likes, like pop music and rap." He feels he connects with listeners on a more personal level. When asked about possibly studying music in college, he said that he has considered going to Berklee College of Music, but is more focused on the possibility of attending the United States Naval Academy and serving the country.
He really became interested in the instrument and "how grand it is" when he took a gap year at the beginning of his high school career. He taught himself how to play, and he enjoys music as a hobby and something that brings him joy. "I've taught myself everything I know about music," he said. "Music never dies, and it is the one thing technology cannot completely manipulate." Felix has a busy and hectic life at Tabor, but he always finds time for music: "I play mostly on weekends, or whenever there is free time I go down to Hoyt and just play."
Felix is incredibly humble about his talent with the ivory keys, casually mentioning, "I am working with an artist in Bermuda." The artist who goes by the name of Mad Mike has an album on Apple Music and Spotify called Sleepless Nights. Felix said, "He is super talented and amazing."
Felix intends to play music until the day he dies. He wants to remind everyone to "appreciate the things that you have and always give back to the people that give to you."