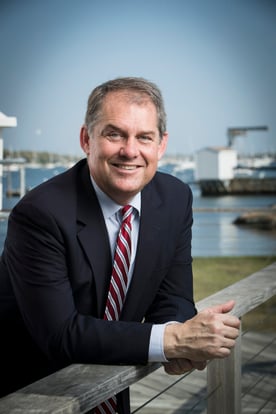 In 1968, not too long after I was born, Andy Warhol, the iconic pop artist known for his Campbell's Soup Cans declared: "In the future, everyone will be world-famous for fifteen minutes." Without going too far into it, he was referring to his belief that the hierarchies of the world of that time were dissolving quickly, that lines were blurring. To him, and to his contemporaries, this meant simply that the opportunity for things or people to be worthy of fame were unbounded, in the absence of habitual delineations, and therefore that anybody – or actually everybody – could be famous. A plain old can could be Mona Lisa's equal. I don't think Andy Warhol could possibly have imagined the rise of YouTube or other social media, where the most mediocre of people can be famous for a time. Nor could he have imagined that, like regular people or regular soup cans, ideas or memes – even regular ones, even terrible ones – can gain fame and support. Still, he seems to have been essentially correct. In the future – meaning today, if looking forward through a decades old lens – everyone can enjoy some level of fame.
I give you this very brief sociology because…it's true. After more than 50 years of waiting my turn, I found myself suddenly – and in a completely unworthy way, I might add – enjoying my 15 minutes of fame, or rather 15 seconds, replayed again and again all summer. I'm sure you saw me on television. I even saw myself once while watching in Asia! Yes, in the days and weeks after graduation last year, there I was on what seemed like a never-ending loop on CNN – Mr. Robert Mueller, our actually famous and most excellent graduation speaker, Mr. Martignetti, our Board Chair, and I, walking along the path together into the graduation tent. Posterity will have no choice but to wonder what so prominent a man as Bob Mueller, special counsel to the Department of Justice, was doing walking with me. Who cares? On that day I was in the presence of a truly great man, a man of high character, a man eminently worthy of his renown. It was something special to me, to be with him and to enjoy a brief fame by association.
That day I was inspired by Mr. Mueller and by his core values of patience, integrity, service and humility. I have referenced his talk many times and have been wildly guilty these past months of both values - and name-dropping – his values, his name. I thought his speech was remarkable and you'd be hard pressed to find better values or a better example to follow. Patience, integrity, service, humility: Universal and timely topics and ones we can never work on hard enough.
Yet these were not my biggest takeaways. Pervasive in Mr. Mueller's talk was recognition of the profound power of positive examples and of the meaningful service of providing these for others. "One can come to understand the importance of service over self in myriad ways," he said. "Through volunteerism; through commitment to a particular
cause; or perhaps by example." He went on from there: "While at Princeton, I had one of the finest role models I could have asked for in an upperclassman, David Hackett. I played lacrosse with David in the spring of 1965. He was not necessarily the best on the team, but he was a determined and a natural leader…and a role model for us all." "Later," Mr. Mueller added, "when we were graduating and trying to understand how to respond to the war in Vietnam, David was our role model, and many of us followed in his footsteps to the Marines." I knew almost immediately that this would become my favorite part of Mr.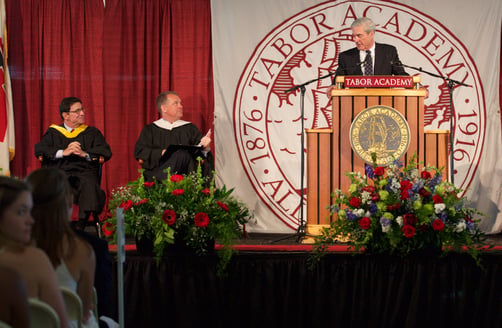 Mueller's message, a seed planted for this year. Who was this guy, David Hackett, the shining though relatively anonymous example/role model, for the shining and well-renowned example of Robert Mueller? Who was the example who had made such impact on the example we invited to graduation?
Of course it is foolishly simple to think that just one example created a life like Bob Mueller's. Life is so complicated and lives exceptionally well-lived are more complicated still. There are just so many people and experiences to learn from. David Hackett, however, is the single one Mr. Mueller mentioned – and half a century after the fact. This is pretty neat, isn't it, and worth thinking more about at a place like Tabor? For here we can be reminded all the time: As important as our curriculum is, and all the content and learning we can do within it, the best lessons are to be found in the many positive examples that surround us. Our best selves will be learned by the study of the best from others, provided we all aspire to be the right kinds of examples. It's circular, sort of chicken and egg, but it's true.
I found myself thinking of this often during the summer and eventually reached out to Mr. Mueller to learn more about Mr. Hackett. Graciously, he shared a number of things about his friend: That he had a quiet demeanor, but that there was engendered in his quiet a respect born from the values he demonstrated. That he was not the best player on the team, but that he did all the work all the time. That he was effective and efficient, a man who said less, but meant more. "He was worthy of the reverence we often have for the people ahead of us (hear that seniors!!) and we respected him for his example," Mr. Mueller said, " and later David's life and the way it ended showed me the immediacy of death and of life, and about the sadness of loss when potential is snuffed out." David's example, I took from my conversation, had transcended Mr. Mueller's youth and became even more understood and appreciated later on and throughout his adult life, as meaningful things often do.
That interview led me look further into Mr. Hackett. I discovered that he was not only a lacrosse player at Princeton, but a soccer player too, and that there was a prize given in his name, for enthusiasm, discipline and leadership. I learned from the writing of someone who served with him, that had been an excellent soldier, and that he was, "a combat-seasoned veteran, my mentor, a guy who taught me the many things that saved my ass. You noticed right away the respect and trust his Marines showed toward him, and his platoon was far and away the most cohesive in the company." In that same post I read the terrible story of how David had died from a sniper's round. I found another piece of writing from a Princeton alum, a recipient of the Hackett Prize, that recounted how David had come up in conversation two different times in his life, each with the question asked at the end of shared stories, "Are you by chance talking about David Hackett?" People in the conversation had, he said, known exactly who he was by the anecdotes of his life, even though he had not been mentioned by name.
Now, there is no great revelation here, to find that such a leader would have been an example to many, or that his model would cross over many relationships and experiences, or that stories of his impact would abound. David Hackett, the quiet leader by loud example really was a memorable and meaningful presence in the lives of many people. And every time someone speaks of him with such reverence, respect and appreciation, the consequence of his life is demonstrated.
His fifteen minutes of popular public fame belie literal lifetimes of personal notoriety and meaningful gratitude.
How amazing is that, and within all of us to attain – this type of lifetime fame. My 15 minutes with Mr. Mueller were fleeting and unearned. But it reminded me what true renown means because I too had the chance to learn something from David Hackett. My walk along the graduation path had more people in it than the camera showed. There I was, and Mr. Martignetti, and Mr. Mueller. But in him was David Hackett. David had in turn invited along his platoon-mate, some friends, his teammates, others unknown but present – all people made better by him. It was a crowded path, bathed in the shining example of a young man who lived and died more than 50 years ago, and who in quiet ways set vivid, memorable and meaningful examples for others. How's that for a shining light? Brief but brilliant, and glowing such that others could not just see it, but rather be infused by it. What a gift to be a builder of others, and to be remembered for it.
So often I have reflected on the quote from Matthew, at the back of the chapel. You tease me about it often, but it has meaning to me truly. For character, which is said to be what we are when alone and in the dark, must eventually be made public and manifest. Otherwise it is just a selfish and covetous possession. The good work of the quote is, to me, the good work of building a character, a set of values, a direction. Didn't David Hackett's life shine this way? Couldn't others see his good works? His character? His example? Sure, but it doesn't sound like that was his intention. Perhaps unknowingly, but certainly providently, the people who saw these things in him, incorporated them into their own lives and living. Perhaps unknowingly, but certainly providently, these people became, as a result of his example, David's good life's work.
"Let your light so shine, John, that others may BE your good work," I could almost hear David Hackett telling me this summer, as I learned about him. And so, my pathway becomes more crowded still, as you and I set out to walk the path of the coming year, and I say the same thing to you: Let your light so shine that others may be your good work.
Now this is a high calling and an aspirational goal, to hope that our work could be as much or more about others as ourselves. We cannot all be Robert Muellers, we know. We should always try, but some blessed few truly exist on higher, loftier planes than most of us. But we could all be someone's David Hackett, no? Couldn't we lead by examples so vivid and so meaningful that others will recall us many years from now, as difference-makers? Could a proctor or team captain be this way for an underclassman? Could one of the harder working kids in a dorm, be that for someone who is still learning the tenacity it takes to succeed? Could a colleague possessed of the most empathy, or the most kindness, or the most selflessness set the mark for some other who is less altruistically gifted? Could we not live lives of such service by example – not in word but in constant and habitual deed – to have it known, through the people that have become our good works, that our impact is worthy of a lifetime of recollection?
In years to come, some of us will be remembered as David Hackett was, but many of us will not. Those of us who are not will have missed an incredible chance – to forge by example for our peers a kind of near-immortality, a David Hackett-like presence in their lives. Together, let's not miss that chance, to have others be our good work. Not just benefit, or help them, though we should. But guide, shape and elevate them as we can. That's a serious commitment to one another, to be both the right kind of example and the right kind of observer. But if we do it as often as we are able, what an incredible culture of excellence we will have built! In this way – by letting our lights so shine that others will be our good work – can our time here at Tabor be most wholly spent.
Thank you, and good luck this year!