My involvement in the Tabor Model United Nations program has been an amazing experience. As a lover of debate, I have always been skilled in arguing my point and convincing others of its strength, but Model UN has also taught me the importance of working with others, and that unity and resolution can be found even with many strong opinions being voiced.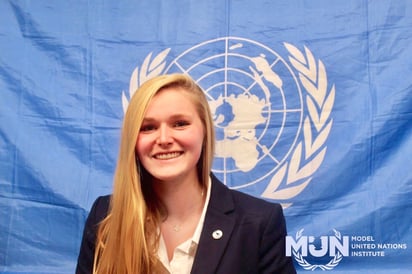 This is the biggest strength of the student-led Model United Nations program at Tabor. Students are able to work together and learn from one another. It is such an honor for me to teach other students what I have learned throughout my Tabor experience, and through Model UN, as well as to learn from their thoughts and opinions, as we navigate current events and international issues together.
One of the biggest strengths of Model United Nations is that it teaches empathy. In Model United Nations we are essentially pretending to be the United Nations. Each person (known as a delegate) takes on a role that is different from themselves. This role is usually that of another country. Using the positions of that government, delegates attempt to enact policy and solve global problems through resolution writing. Delegates sometimes take on the role of specific people, a government minister or significant historical figure, and attempt to solve problems through that person's lens. Understanding someone else, and how they make decisions based on their experiences, and not our own, is an important life skill. It is also very difficult, as it can be hard to hold true to opinions that may be contrary to one's own. But with accurate execution of that skill through Model United Nations, we learn so much about the world around us and society as a whole.
I recently participated in the Model United Nation Conference at MIT, along with several hundred other individuals, seeking to find common solutions to the world's problems. My committee was the Association of Southeastern Asian Nations. Our focus was on the problems of drug trafficking in the region, and ensuring economic rights to women. My role was one very contrary to my own experience: I acted as the delegate from The Democratic People's Republic of Korea (also known as North Korea). I actually choose this role as I saw it as the most challenging learning experience, especially in light of many current events which have highlighted the differences between my own country and its society in the United States and North Korea.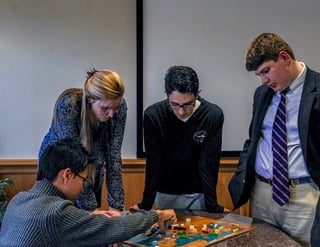 In this challenge, I was tasked with not only understanding the differences, but also the similarities of our two countries. To my surprise, it was not hard to understand the societal values of North Korea, which are deemed in such contrast to our own society. After sifting through a great deal of propaganda, I am not sure if The Korean War was not a partially successful attempt by the U.S. to colonize the Korean Peninsula. This realization further taught me the importance of learning about contrary perspectives to my own. In taking the time to understand other opinions, I was able to see what similarities there are between our governments' value. This led me to success at the conference as I was able to unite with other countries in Southeastern Asian to come to resolutions on the best ways to implement regulations to reduce the illegal opium and narcotics trade while still ensuring national security (a critical value to the Kim regime in North Korea) while also promoting women's economic rights and equality in order to create a progressive ASEAN identity of equality. My experience allowed me to further cultivate empathy and personal understanding of world issues, as well as an understanding of diplomacy.
Through Model United Nations program, we have learned public speaking skills, parliamentary procedure, international relations theories and ideologies, how to effectively create resolutions, and about how the United Nations works as a whole. We have learned winning strategies such as confidence, knowledge of our role, strength of opinion, and being friendly and personable. The most important however is being a leader. I have discovered an effective leader unites others in order to create a compromise and resolution that all can agree on. This diplomacy and talent for bringing people together is the best vehicle for solving complex world problems.
The skills I have learned have carried over to my leadership roles at Tabor, as a Co-Head of Model United Nations and as a Proctor, but also in my day to day life. I have learned that a leader is not only strong, confident, and knowledgeable, but also can lead through uniting others through compromise. The best leaders work well with others, and make people around them the best versions of themselves. This is something I strive to do everyday
I have been impressed by the talent of the Model United Nations team at Tabor this year. They are fast learners with strong interest, inspired by curiosity and discovery. I am so lucky to be able to teach our team, along with my co-head Grace Douvos '18, the life skills intertwined with Model United Nations, many of which we have learned together through experience. I know these skills will help me to pursue my own interests in the fields of international relations, global affairs, and sociology, but they also make me a better leader, teacher, and citizen as a whole.
Lillia is one of the Co-Heads of the Model United Nations Program at Tabor Academy. She has earned numerous awards and honors through Model United Nations. Most notably, she received The Outstanding Delegate Award for her role on the delegation of North Korea at the MIT Model United Nations Conference February 9th-11th, 2018.