Sophie is doing her Senior Project with Rich Arena, a graduate student at the School for Marine Science & Technology (SMAST) at UMass Dartmouth.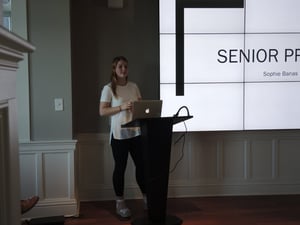 I have always had a love for marine science and, naturally, when I began discussing options for my Senior Projects this winter with my advisor, Mr. Cassista who is the Director of Marine Science at Tabor, he was more than ready to help with suggestions. As we discussed options, Mr. Cassista reached out to a couple of different organizations and programs on my behalf to see if one might be willing to let me assist on one of their projects and or sit in on one of their programs.
Dr. Wendall Brown, a professor at SMAST at UMass Dartmouth replied to Mr. Cassista's request, and we set a date to meet with him and Mr. Rich Arena, a graduate student working with Dr. Brown. We worked out a functional role for me to help Mr. Arena with an ongoing project that would allow me to work with raw data and the marine science technology community.
Since early April, when the Senior Project period kicked off, I have been meeting with Mr. Arena weekly to learn how to use different programs for coding and data analysis and using it to organize and compile large amounts of raw data. This raw data mostly consists of temperatures and depths of the water Loggerhead turtles are in, retrieved by satellites when they surface for air. It has been collected from Loggerhead turtles that have been tagged by NOAA over the span of eight years. Mr. Arena and I are working to use the data from the turtles to compare it to data collected by SMAST's ocean gliders.
To do this, I am learning to use the program MATLAB, which is ideal for working with this much data. Mr. Arena has slowly, but surely, been teaching me how to code and write commands in MATLAB to organize different real-life data points from different time periods and compare them to available computer-modeled data. It is a great skill set to learn as it has applications for all kinds of data research across many industries. I have to say that Mr. Cassista has been my rock through this whole project. He has helped answer my questions when I am away from the lab so that I can keep moving forward on the workload Mr. Arena has given me.
My project has allowed me to become immersed in the marine science community and understand all that it takes to become an oceanographer. As I plan to study marine biology next year in college, I have also become aware of the challenges, frustrations, and breakthroughs studying and working with marine data can bring. Overall, I have really enjoyed my project. And, it is exciting to think that if Dr. Brown and Mr. Arena publish a paper on this research, my name will be included due to the work I have contributed. I'm excited to share the work I have done with the Tabor community and marine science community!