When I learned that the Senior Project program was to be canceled for the Spring 2020 trimester, I was dismayed. I had been preparing for months with Mr. Sanford, Tabor's CFO, to embark upon an exploration into the world of investing.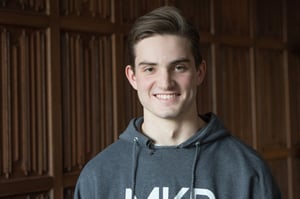 Through summer work, I'd set aside a sum of about $1,600 for the spring to set up a portfolio, buy stocks and bonds, and learn how to navigate the markets. Furthermore, when coronavirus sent the market into a stunning spiral, I saw an amazing buying opportunity. Just in time for my project, I was getting to buy in at a 30% discount! So, you can imagine my relief when Mrs. Crosby informed me that I would be allowed to continue the endeavor as an independent project. As such, I began my research, building a list of names I felt could make up a solid, diverse portfolio. I spoke over the phone with asset manager and Tabor Board of Trustee member Mr. Barrett, who helped explain that with my long-term aggressive investment timeline, I'd likely be looking for a portfolio made up of roughly 80% stocks, with the other 20% going towards bonds and money markets. Reading the WSJ and watching CNBC, I settled on several blue-chip stocks like AAPL and DIS, as well as some lesser-known names, like ROKU and SIRI.
Over the past few weeks, I've watched my portfolio rise and fall as we journey through this unprecedented sea of volatility. After just two weeks, I was up 10%, only to see it wash away to 0% just two weeks later as coronavirus headlines got worse. As I write this article, good news out of NYC and Washington D.C. have buoyed the markets to an impressive rally from their mid-March lows, but with Q2 earnings sure to be grim, the swings are certainly far from over.
Although the social-distancing environment does not pose any direct challenges to my project, as I can work from my computer pretty much anywhere, that is not to say the current global climate hasn't posed challenges for my project. As mentioned before, we are in a remarkable period of highs and lows, and as such, it is difficult to get an accurate sense of where the market is heading. It is hard to pick up on many trends as they are largely dependent on unpredictable headlines, rather than legitimate economic factors. However, there are things to be learned in this market. For example, the markets have consistently been selling off into the weekend, as investors prepare for the possibility of bad news during the closed market.
While watching the portfolio and following the markets closely, I have also investigated some terms and concepts that I have picked up on in an attempt to improve my financial literacy. For example, just the other day I spent some time learning about the VIX, a volatility index, and beta, a metric of an asset's volatility in comparison to the market. In addition, I've begun reading a book by the famed asset manager Seth Klarman, who runs the Baupost Group (one of the most successful hedge funds in history). Overall, the independent project has been a chance for me to learn some valuable skills, stay current with the news, and put my hard-earned money to work. In terms of staying motivated during my senior spring, it hasn't been too much of an issue for me… not much can beat a school-sanctioned opportunity to make money! Hopefully, I can continue to build upon my gains through the remainder of my project and further still into my adult life.
Performance Since Outset (March 25)
S&P 500: +421.50 (+17.34%)
My Equities Performance: +$266.87 (19.13%)
Current Portfolio Value: $1,874.78 (+$274.68, 17.27%)