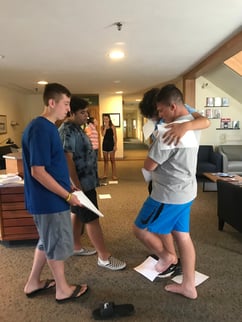 This summer at TASP, nine campers completed a five-week program structured around leadership called Leadership in Training. Their goal was to develop the "powerhouse skills" it takes to become a leader in all aspects of their lives. These nine campers, calling themselves the "LITs," took over the West Reading Room in the Charles Hayden Library as their summer home. To help the reading room feel less like a library and more of a chill zone for teenagers, the LITs decorated the space with their self-portraits and large colorful posters to remind themselves of the skills they wanted to develop: self-awareness, self-regulation, teamwork, and grit!
The LITs participated in a variety of team challenges throughout the summer. An example is The Toxic Waste Challenge 2.0, which focuses on one's ability to communicate clearly and to work as a team while safely transporting "toxic waste" to a safe zone without spilling it, killing all teammates in the process! According to Caroline Hopkins, a 9th grader with us from the Singapore American School, "I didn't expect to learn so much about myself this summer, I not only learned about leadership skills such as communication, but I also learned about my own strengths and weaknesses. I found my voice among my peers this summer."
In addition, the LITs participated in a capstone community service project. The LITs researched different local pantries and decided together to collect non-perishable food items and money for Shepherd's Pantry in local Acushnet. To maximize their results, they involved the entire Tabor Academy Summer Program in their project by creating two different contests. Residential campers were challenged to collect as much spare change through a competition between dorms, while the day camper groups competed to bring in the most canned goods. The LITs focused their time at the Marion General Store encouraging customers and other members of the Marion community to donate to the cause. Overall, it was a huge success! The campers raised over $300 dollars and over 300 cans for Shepherd's pantry! "Tabor Academy Summer Program has been a huge part of my life so it felt great to be able to work with the entire camp and the Marion community to work towards a common goal. The project also brought our whole group together in a new way," said Andrew (an 11th grader with us from Old Rochester Regional High School).
It has been gratifying to work with these campers over these past five weeks along the shores of beautiful Sippican Harbor. The experiences they had together truly resulted in an incredible learning opportunity filled with personal growth for each of the nine campers. They engaged fully in each activity and learned important skills. As described by longtime Tabor camper Julia Kelly (entering 10th grade at Proctor), "the main thing I took away from this summer was the importance of having a positive attitude when working as a team toward a common goal." Not a bad take away for a summer of learning!