As my final fall season came to a close, I was overcome with the bittersweet feeling of my final days on the field hockey field, while looking forward to a successful squash season. Along with the start of a new season came my responsibilities of captainship. This was a chance to leave my mark on Tabor Academy as the Varsity Girls Squash captain. As the team began to take shape, I noticed the escalating and palpable energy and excitement the players brought to practice each day.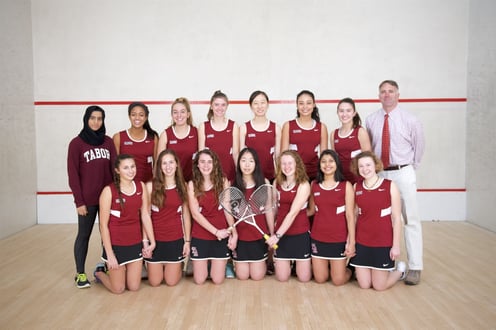 Being a captain taught me many valuable lessons, for example the importance of combining team chemistry and hard work. In squash teammates compete against each other for a new positions on the ladder and tensions often arise between players. From experiencing a shift in the ladder first hand I understood the discouraging feeling that would often follow. However, in these cases it was important for me, as a captain, to encourage a player who fell a spot or two to work hard and focus on their basic skills of strokes, serves, and footwork to improve their game. Co-captain Nikki Zein and I would also remind the girls that it is important to be there for your teammates, even after an intrasquad ladder match, where one player could take another's spot on the team. This combination of hard work and team chemistry allowed our team to create a strong bond throughout the season.
One of my goals going into the season was to be there for all of the girls. I would try my best to check in with them a few times a week, not only about their squash game, but also about how their life was outside of practice. Squash is series of mental games: if a player has a bad day it can substantially alter the way they play. Although our team was small in numbers, we had a close group with loads of team spirit and it was important to me that I check in with the girls when passing by in the hallway to see how their day was going.
Overall, my experience with captainship was a very transformative one, as I learned about the responsibility required to lead a team in a successful season. I got to know all the girls on the team very well, and will miss them all next year. I gained a sense of community from this team for I cannot take full credit for the success of it. It was a combination of the hard work and determination from the girls and the coaches, which allowed our team to have a successful season.