One of the best parts of my job as the Young Alumni Engagement Officer here at Tabor is hearing all about the exciting adventures, life changing moments (houses/marriages/babies), and interesting paths our alumni have taken since leaving school. I also enjoy developing relationships with many college-aged alumni who are showcasing the skills Tabor taught them and utilizing the instrumental foundation they built here to be successful in their new schools.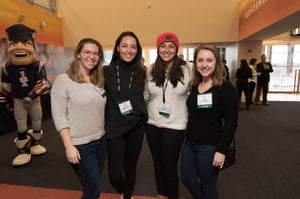 Through large gatherings around free pizza at the local college town hot spot, I've learned that some of our youngest alumni are taking some big risks and pushing themselves as lifelong learners. They've enjoyed internship opportunities, are double majoring, and the creatives are learning new video techniques and developing our tech future. Many have studied abroad and/or have taken the opportunity to work on a service trip or conduct original research to help others around the world. The stories from our youngest alumni are fascinating and had me thinking about how we can best share their wealth of experience with our juniors and seniors, those looking forward to enjoying these same types of opportunities in their college experience ahead.
As I shared these thoughts with young alumni, I have received great feedback and ideas. Mostly, I learned that our youngest alumni are very eager to stay engaged with Tabor, even while starting out at their new school. They want to stay in touch with their former faculty, friends, and all the new happenings here on campus, not just socially, but for the benefit of our current students.
With that goal and many ideas in mind, Tabor's Alumni Relations office has developed a new program called College Ambassadors. The College Ambassador program focuses on three ways young alumni can give back and stay connected. First, is to be available to answer questions from current Tabor juniors and seniors about the colleges and universities where the Ambassadors are enrolled. Second, Ambassadors commit to welcoming newly enrolled Tabor grads to their school with an in person meeting. And third, our volunteers are responsible for building our extended Tabor community on their campuses through connecting with fellow alumni to encourage their ongoing engagement with Tabor during the immediate four years after TA graduation, and hopefully up until their 5th Reunion.
We launched the program this summer and have had an incredible response: Over 57 recent graduates, representing 52 different schools, signed onto our effort in just three weeks. Thrilled doesn't begin to describe how I feel about this program and the interest we received.
Tabor is a special place, and most are eager to carry the connections they made here into their college experience, building on the strength they found here. With a common Tabor bond, our College Ambassadors and our newly minted graduates can find plenty to talk about as they form a new relationship in a new environment.
Our growing list of College Ambassadors are proud to be serving their school while showing their fellow alumni around their new college campus, sharing the inside scoop of hot spots and fun events to attend, and how to be successful in a new school. The further opportunity Ambassadors have to answer our current students' questions from a perspective born of recent experience will build their sense of service to our community as they see the impact of their advice taking hold to empower our students to move boldly forward during their college years. These are the kinds of bonds that can last a lifetime, and teach our graduates another way to serve others.
By October 1, our College Ambassadors will have had their first encounters with the new incoming Tabor graduates on their college campuses. We can't wait to hear how it goes as new Tabor relationships are being forged over coffee at a favorite local shop, dinner in the dining hall, or hanging out on the campus quad. We hope everyone will share some photos and stay in touch!
To check out our list of College Ambassadors, visit: www.taboracademy.org/alumni/engage-with-tabor/college-ambassadors