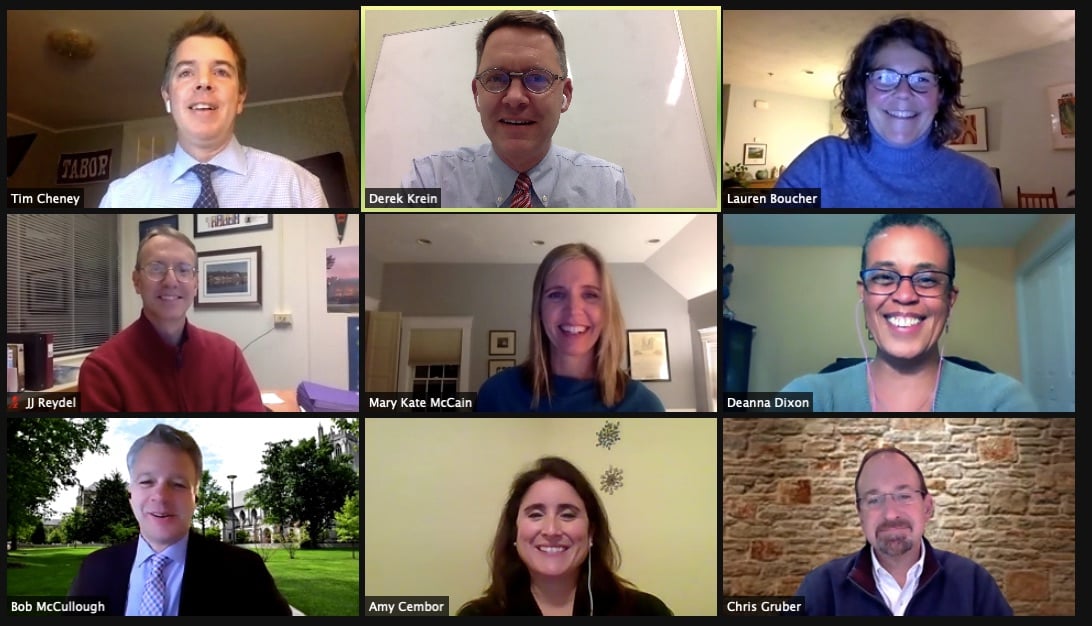 Whether you're new to the college process or a seasoned veteran, there's always something to learn, especially in these topsy-turvy times. That's why it's important to hear from our colleagues at colleges and universities around the US to help us stay current. Tabor's College Counseling Office invited four admission professionals to share some thinking with us for the Junior Family College Kickoff on December 2. Our guests were Deanna Dixon, Dean of Admission at Smith College in Northampton, MA; Bob McCullough, Director of Undergraduate Admission at Case Western Reserve University in Cleveland, OH; Amy Cembor, Senior Associate Dean of Admission at Providence College in Providence, RI; and Chris Gruber, Dean of Admission and Financial Aid at Davidson College in Davidson, NC.
Some important themes emerged at the December 2 program:
Managing a Shifting Landscape
A lot has changed during the pandemic. For example, last year at Tabor we chose to go credit/no credit during Trimester 3 instead of using the traditional grading system. Chris Gruber made light of this choice and assured families that students are judged within the context of their own school. He said, "Colleges understand what has changed and that some areas of the country...and the world...are handling things differently than others." He noted that colleges use the Tabor School Profile and all of the other insightful information that is shared by high schools to assist in decision making.
In the past eight months, colleges and universities have learned the importance of accommodating virtual visits to their campuses. Offerings of programming, interviews, and one-on-one chats with admission officers are robust. Smith's Deanna Dixon said, "We have learned that this new environment allows students to get to know us and visit us...virtually." She said that high school students are engaging with colleges regularly and have become comfortable in a one-to-one context: "Some of the intimidation is gone now. Students are taking ownership in the process; the pandemic has given them agency. They are communicating with college representatives on their own; that feels different from years past."
Don't Shop Without a List and Set Ground Rules
Amy Cembor from Providence College gave families advice about making campus visits and her first rule to families is "Don't shop without a list." It is important to understand what is important to your child and what they learned from doing their research. Besides their major of interest, students should have a good idea about what they are looking for and what each campus is like. Urban, suburban, or rural? Competitive or collaborative? Conservative or liberal? Before setting foot on campus, families need to set some ground rules ahead of time. Encourage your student to take the lead and have a conversation about what they're looking for. Once a campus visit is complete, ask your child, "Can you see yourself here?" Because of the pandemic, Cembor noted that for the class of 2020, 54% of admitted students hadn't set foot on campus before showing up for their first day at Providence College.
Student writing samples are very important. According to Chris Gruber, a student's authentic answer to the "Why Davidson?" prompt helps his team understand how a student will add to a community, and that is paramount. The Common Application writing prompt allows students to be reflective while the Davidson supplements encourage students to share how they have spent time outside of the classroom: "What have you done and what's the 'why' behind it?" Important for admission officers to learn is everything from what students have done with their summers to what a student's role is within their family. Gruber said, "If you are a primary caretaker for your younger siblings, we want to know that."
Smith College's Deanna Dixon asked families to trust that admission officers are going to look beyond test scores, saying, "Standardized testing is not the best indicator of a student's ability to do well. You can make a good admissions decision without standardized testing." When asked about whether or not she thinks test prep classes are necessary, Dixon said, "It depends." Some colleges and universities require a test score for scholarships, so if test prep gives families peace of mind then it might be worth considering. In his talk, Davidson's Chris Gruber made it clear that test-optional colleges and universities are going to be with us for a while. A good question for families to ask colleges is about the value being placed on test scores in the admission process. Gruber said, "You control the narrative more than you know, and we are looking to get this right by being fully transparent." At Davidson College, test scores are not included in the rubric they use to assess a student's admissibility.
Case Western Reserve's Bob McCullough explained that there are two categories of scholarships. The first type is endowed merit scholarships and they involve a competitive process based on meritorious achievement. Students enter a process: they audition, apply, interview, and they must exhibit a high level of achievement. Most scholarships, however, allow colleges to draw stronger students, shape majors, and achieve academic quality, building the structure of a class; they use the lever of what they are charging -- discounting scholarships -- to help achieve that particular outcome. McCullough said, "Not every college uses merit money this way, but it is widespread." He continued to say that admissions professionals know that when students are considering where to attend college, it is different than buying a car. "With colleges, there is a whole process where the schools decide whether they want to sell you the particular car." In trying to shape a class, there can be an abundance of candidates who can pay the cost of attendance. Colleges might not offer those students a scholarship, but most schools use price to achieve an outcome. McCullough continued on to explain that a college's first priority is to enroll a class, and then it gets shaped keeping characteristics like academic quality and selected majors in mind. How does a student know if they're competitive? The question is answered when a student has qualities a school is looking for that aren't in abundance. If that's the case, then one student's candidacy might be stronger than the next.
Questions about the December 2 Junior College Kickoff should be asked of your child's college counselor. Email addresses and phone numbers can be found here: