On Wednesday, we enjoyed our annual service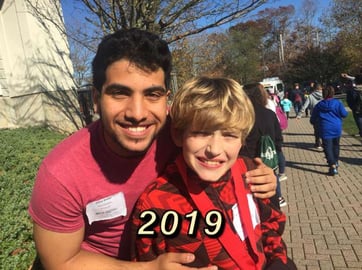 morning with Special Olympics MA. This was my 3rd such day at Tabor and I have come to really love them.
In Egypt, where I am from, we did not have the opportunity to do service work with intellectually impaired people, so it was new to me. I was nervous the first time we hosted Special Olympics as I didn't know if I would be able to be a good host and connect well with them. It turned out to be easy as Tabor facilitated everything and planned everything so well. Now our Special Olympics service days are my favorite as they provide me with the chance to work with lovely kids and to see them having fun and smiling. It is really rewarding. But this year, something truly special happened to me.
I was working with my group, having a great time, when I heard someone calling my name. I turned around to see who it was and recognized Jacob, one of our guests. I met Jacob in 2017 during my first Special Olympics day at Tabor. I was taking care of him that day. I remember taking a picture with him in 2017 as we had so much fun together. He made my day and made me feel so rewarded as he left Tabor with a big smile on his face. Now, two years later, he remembered me, he even remembered my name! He was only between 8-10 years old when I met him the first time, but he still remembered me even after just a couple of hours together! It truly made my day to know that I made such a positive impact on someone's life that he remembered me two years later. It was the most rewarding thing that has ever happened to me. I was so happy to see him again, and I am humbled and happy to know that I made such an impact on him and stayed in his memory.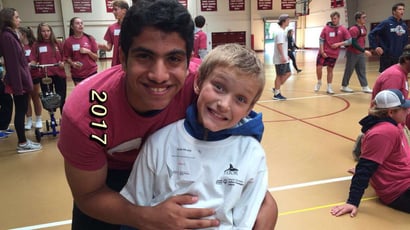 I made Jacob's day two years ago, but on Wednesday, he made mine.