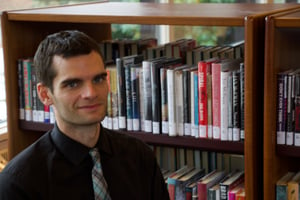 The idea for the 2018 Graboys Symposium started with a simple question: How do values shape leadership? Already Tabor addresses well the pragmatic aspects of leadership. Whether as dorm proctors, team captains, student representatives, club officers, or volunteers, students have many opportunities to practice leading in our school community. In most of these positions, if not from formal training, they hone their skills through collaboration with faculty. With a concrete approach to leadership in place, I wanted to step back from application and ask a bigger question. Why lead? In the service of what or whom? How can we measure successful leadership?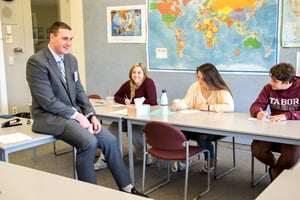 These questions can only be answered with values in mind. Being efficient can't be the primary measure of success. Many of history's greatest villains were terribly effective. Popular support and charisma are also unreliable benchmarks. Sometimes the most important leaders are the whistleblowers, the iconoclasts, and the contrarians who are willing to be ostracized by speaking out against the majority. As an enthusiast of the Western genre of film, I kept returning to the iconic image of the hero standing alone at high noon.
If influence and efficiency are temporarily sidelined, the primary criterion for successful leadership becomes the degree to which a person is able to live in accordance with her values. Exactly what those values are will depend on each person and will evolve over time. As teachers, dedicated to educating the whole individual, it is part of our calling to help students think through what matters most to them and why.
To make the topic more accessible, the symposium will start on Tuesday with a discussion of role models. This has been a recurring theme on campus in the past couple years. Understanding why we admire someone helps shed light on what we value and gives an example of what we could become. For me, that person has always been my grandfather, Gus Sandefer. He faced many obstacles. He grew up poor in Arkansas and only completed the 8th grade. After leaving home, he experienced the horrors of the Korean War as a machine gunner. Later in his life, he lost an arm in an accident. Despite these hardships, he always remained positive and kept his sense of humor. I was also struck, even as a kid, by the way he treated everyone with dignity and respect. He passed away in 2015.
After reflection on role models, we will transition Wednesday to a discussion focused on specific values. Students will gather in affinity groups – aesthetics, athletics, empathy, equality, faith, freedom, knowledge, innovation, and sustainability –to practice talking and thinking about shared values. This can be uncomfortable. It requires a high degree of vulnerability to share something so private, and it is difficult to put words to moral nuances. The Ancient Greeks said "know thyself," but they never explained how. This program attempts to help students do just that.
Organizing the Graboys Leadership Symposium has been a challenging yet gratifying experience. I am grateful to Tabor for the opportunity to craft a program on a topic that means a lot to me personally.
The 2018 Graboys Leadership Symposium kicks off at 7:00 PM on December 4 and runs through Wednesday, December 5. Join us for the keynote addresses which will be livestreamed on our Facebook page at 7:00 PM on December 4 and at 8:30 AM on December 5.