We asked our International Students to share some of their favorite holidays from their homelands as we in America celebrate some of ours this season. Enjoy their stories of tradition, family, food and community this holiday season: any themes sound familiar? Happy Holidays to all!
Fatima Mohamed '18 - Oman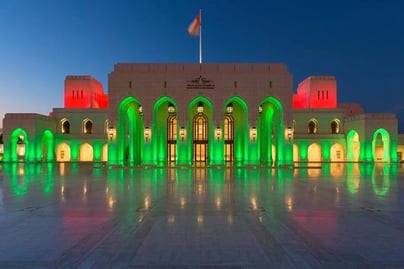 My favorite holiday is The National Day, which takes place on the 18th of November. This holiday is a celebration of the country's independence and it marks the Sultan's birthday, Qaboos Al Said. People share their gratitude to the Sultan who has built and nurtured the country with peace and justice. This celebration decorates the streets of Oman and brings joy and harmony to the people.
May Xia '17 – China
Mid-Autumn Festival, celebrated on the 15th day of the 8th lunar month, is an important holiday in China. The full moon on that day symbolizes family reunion. Chinese people usually make lanterns, eat mooncakes and enjoy the view of the full moon with their family during the holiday. For people who are far away from home, they will either write letters (in old days...) or call their family to celebrate the precious moments together.
Jenny Jeong '17 – Korea
National Foundation Day (October 3rd): Gaecheonjeol, also known as National Foundation Day of Korea, is a public holiday that celebrates the creation of ancient Korea. The legendary founder of Korea, Dangun, whose mother was a bear, came down to earth on this day and founded the first Korean Kingdom. On this day, each and every one puts up national flags in the window and sings Gaecheonjeol songs together.
Sam Han '17 – Korea
Korean Language Day: In South Korea, we celebrate the Korean Language Day on October 9th. We celebrate the creation of Korean (as in Korean Language) and praise Sejong the Great for creating Korean. North Korea also celebrates the Korean Language Day, but on a different day, January 15th. The Korean Language is made out of 14 consonants and 10 vowels.
Taka Matsumura '17 – Japan
Setsubun is the last day of winter, and it literally means "division of seasons." Setsubun is a festival held on February 3 or 4, one day before the start of spring according to the lunar calendar.
The most commonly performed ritual is the throwing of roasted beans around one's house and at temples. When throwing the beans, you are supposed to shout "Oni wa soto! Fuku wa uchi" (Devils out, happiness in!) Afterwards people eat as many beans as their age to pray for happiness throughout the year. There is another reason why people roast and eat these beans. It is said that the bean contains the evil of the previous year, and so it is roasted to prevent evil from sprouting.
Some people eat rolled sushi, ehomaki, while facing the year's "lucky" direction.
Kelly Ido '17 – Japan
七五三 (Shichi-Go-San, Seven-Five-Three)
Shichi-Go-San is the Japanese traditional festival for three- and seven-year-old girls and three- and five-year-old boys on November 15th to celebrate the growth and well-being of young children. Children dress in kimono, Japanese traditional cloths, and visit shrines. . Chitose Ame which means thousand years candy is given to children.
Mao Matsuo '18 – Japan
The Doll's festival is on the 3rd of March, and it's a festival to celebrate and wish for girls' growth. The tradition for this holiday is each family with girls will set up a Hina doll stand. The doll stand is really pretty and has seven stands with small dolls and food replicas on them. I still remember how excited I got when I saw the doll stand in the house the mornings of the 3rd of March.
Chris Xue '17 – China
The next big holiday celebrated by the Chinese is the Dongzhi Festival, or Winter Solstice Festival. It is the shortest day in the year, and this year it will be on December 21th. It is a time for the family to get together, and people eat a variety of food including dumplings and tangyuan to celebrate. In addition, based on the concept of yin and yang, this day is also traditionally considered a critical moment for humans to interact with heaven, and some people perform certain health care activities according to the theories of traditional Chinese medicine.
Jose Sulaiman '20 – Mexico
When somebody dies, the relatives of the deceased gather together to mourn their deaths, it is a sign of respect towards a person they loved and admired throughout their lives; but it is rather gloomy and depressing. While this is true in Mexico as well, we do it our own way. Every 2nd of November, we celebrate El Día de los Muertos (the Day of the Dead) in which people from all cultural backgrounds and socioeconomic status make an altar for their deceased one, they all share common factors such as: pan de muerto (bread of the death), flores de cempazuchitl, and skulls made of chocolate or sugar, but each monument is as unique as the person it honors, and it is characterized by having the things the deceased liked, such as a cigar, or tequila. During this day, you can find people walking around the streets, decorated with altars, dressed as skeletons. All of this happy celebration around death can only be found, of course, in Mexico.