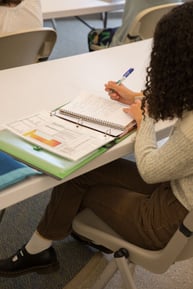 There's something about August that incites the back-to-school jitters in me. I clean and organize my desk, buy school supplies, and dig deeper into writing and meeting planning. As seniors prepare for a busy fall, they continue work on essays, visit schools either in-person or virtually, and work on their applications. Whether they're working on the Common Application, the Coalition Application, or a school-specific app, the Activities section always creates conversation. The most-used application, the Common Application, allows students to list up to 10 activities and to provide details about the activity. Those at the Common Application point out that the Activities section is how colleges get to know more about students: "It can show what makes you unique: your pursuits, interests, and passions." They suggest that students focus on what activities can best tell that story and not on the number you're reporting. One former college admission officer said he thinks of the Activities list as a CliffsNotes version of the most important activities from a student's high school years.
Here's the question lots of seniors are asking about the Activities section, though: What if my Activities are less robust because of the pandemic? Because of this concern, I reached out to Admission Officers from several colleges and universities for their advice. The first thing they want students to remember is that they're experiencing the pandemic, too. Lindsay Skeens, Senior Assistant Director of Admissions at George Washington University, said, "I lived through the same pandemic they did -- and I get it. Students should list what they can, but know that what's not there isn't going to be held against them." That thought was echoed by Ken Sawada, Associate Director of Admissions at Syracuse University, who said that admission representatives will have empathy for the limited options to which students have had access. He suggested that students seek out options that best fit their lifestyles, noting that virtual activities and virtual service opportunities could be ideal. He added, "Additionally, admissions representatives are aware that students may have had to attend to personal or family responsibilities as a result of the pandemic. For circumstances such as these, it will be important for students to communicate any extenuating limitations on activities within the 'Community Disruptions' section of the Common Application." It is important to note that the section Mr. Sawada references may be used to respond to COVID-19 and natural disasters that have created lasting impacts on students and their families. Northeastern University's Jordana Bischoff, Assistant Director of Undergraduate Admissions, agrees. She said that the admission reps at Northeastern understand that activities have been disrupted as a result of the pandemic. Because of that, they expect to see the impact of the pandemic on activities: "If activities were cancelled or postponed, students can let us know in either the 'Additional Information' or 'Community Disruptions' sections. Disruptions outside of a student's control are not held against them in the application process."
One final bit of advice came from Susanna Mathews, Associate Director of Admission at Connecticut College in New London. She said that students should think creatively about how they've been spending their time and to consider what things they've been doing that could be considered as activities, even if they weren't officially sanctioned through Tabor. So, if you've been helping your mom deliver meals to homebound seniors or if you've been caring for siblings while your parents work, please remember that those activities belong in the Activities section. If you're not sure about an activity and need advice, don't hesitate to ask your college counselor for feedback. We are available to help.