What is cooler than being able to catch a fish on a custom lure, using a custom rod that you built by hand, from scratch? If you love the water, I cannot think of anything more enjoyable and rewarding. So, I chose to do a senior project to be able to do just that. I wanted to be able to have the opportunity to try something that I may never be able to do in my life.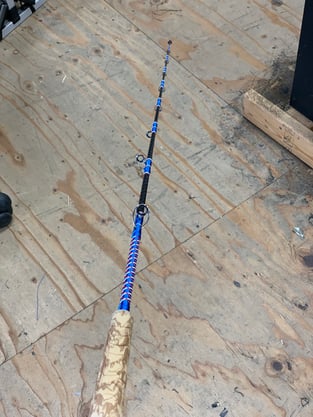 Ever since I have been able to hold a rod in my hand, I've been standing on the shore, or in a boat, wetting my line, in hopes of catching anything that might bite the bait. I have caught anything from a snake to a 500-pound goliath grouper. At Tabor, I've spent many weekend nights since freshman year down on the docks looking for fish. I can still recall the first night I caught a keeper striped bass. I called my advisor, Mr. Pardo, immediately to tell him about my catch and how I hoped we could cook it up for dinner. I walked from the docks up to my dorm, West House, where I held my 34" striped bass while waiting for Mr. Pardo to call me back. When he did, I headed over to his house in Pokiok where we filleted the fish together. The next day, Mr. and Mrs. White cooked up the fish in many different styles, and we all enjoyed a dinner of freshly caught striped bass.
Over the past few weeks, I have been working in Portsmouth, RI, at CraftyOne Customs with shop owner Ralph Craft, a former drill sergeant. He has guided me through the entire process of building a custom fishing rod. I begin with a single sleeve of carbon fiber. First attaching the grips, reel seats, fishing guides, and then adding my own custom artwork on each rod I build. Finally, the most rewarding part of it all is catching striped bass on a rod I built myself.
The single most rewarding experience of my project was when I was given the opportunity to build a custom fishing rod to be donated to Wounded Warriors Project for an injured soldier in hopes it might help him or her combat whatever they may be facing post-war. I had no restrictions on what I could do for this rod. All Mr. Craft told me was to make it special; make it my own, and be proud of my work. I was given free rein. For him to trust me, someone who had only been at his shop for just about three weeks, meant the world to me, especially given such a meaningful and important cause.
I've loved this time in the shop so much, enjoying each day I go in. So, I am excited to say I am looking forward to continuing this work: Mr. Craft offered me the perfect chance, a summer job!