This is the first year in my 47 years at Tabor that I am not teaching, and some people might be wondering what am I doing now?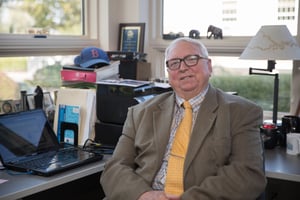 Mr. Quirk has asked me to write the school history from 1960 to the present as a continuation of Joe Smart's book "The School and the Sea," which covers in considerable detail the founding of the school and the major changes in the school up through 1960.
How does a physics and math teacher end up writing the school's history? Good question. Several years ago, I asked for a summer grant to investigate a list of the faculty who have taught at Tabor since its founding. I used as references yearbooks and early catalogs which listed very helpful information about faculty, courses, students, trustees, and alumni. Going through each yearbook was a very tiresome task, so I hired Meagan McCarthy '10 to help with this work. Along the way, I kept finding interesting things about Tabor in addition to the names and courses taught by faculty over the years. I recorded student enrollment year by year, yearbook dedications, gifts given by Elizabeth Taber to the town and the First Congregational Church, a list of department heads, and athletic teams coached and dorms covered by decade. Sharing these tidbits now and then must have alerted Mr. Quirk to my interest.
So, now it is official. As the new School Historian, I am off and running. I will be starting with the founding of the school and will include in my updated edition important missing information from Mr. Smart's account, such as the place and presence of girls at Tabor in its early years, and their comeback after 20+ years of absence in the late 70s. I also seek to bring to life the key teachers and trustees who helped to build Tabor into the fine school that it is today. I make frequent use of yearbook and Log photographs, as well as school maps to indicate the nature of the physical changes to the school over the years. I also attempt to inject humor to make the story a bit more interesting.
My task this year is to finish the history, publish it, and have it available to hand out at the Reunion this June. Throughout the year I will be sending out interesting portions of the work for review. So far this fall I have sent out the historic tuition rates for boarders and day students, a list of service for staff members, and most recently, a presentation of the life of Captain John Carlson. I hope to have some interesting historical curiosities to share about once a week to provide everyone with a flavor of what they will be seeing in the completed work.
All in all, it has been a fun project so far, and I look forward to sharing the updated history soon!
If you have a fun story to share, please feel free to email me at dpierce@taboracademy.org.