I have always wanted to do a senior project. My sisters each did them at their own schools, so when I heard that I too would have the opportunity to do one at Tabor I was elated. I am very interested in fashion. When I look at fashion I often have my breath taken away. It is the most beautiful, well-crafted artform that I have ever seen. The vulnerability that the designer shows through the garments and the personality that is projected by the people wearing them is simply breathtaking. Clothes are our armor at the end of the day. They are how we showcase our personalities outside of our bodies. Through our clothes, we open ourselves up for the world to judge. Every day the clothes people choose to wear create lasting impressions on others, good or bad. The choice of what one wears has immense power to change how we view ourselves, but also how we view others. Since last spring, I have learned to design and make my own clothes. When it came time to apply for the senior projects, I knew that I definitely wanted to do something involving fashion. I decided to make a five outfit line of clothes that would culminate in a live art fashion show.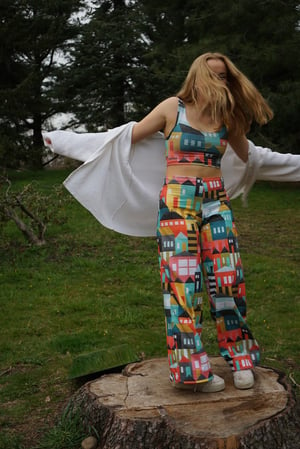 Although the senior projects were not able to continue, when offered the option to continue on with an independent study, I gladly took it. One of the challenges with this change in plans is my ability to throw a live art fashion show in this environment. My goal was to adorn the walls with things that inspired my clothes (pictures, fabric swatches, quotes, magazine covers) and have the models wearing my designs walk around the room. The idea was that people could come in and talk, look at the clothes, ask the models how they fit and feel in them, and possibly be inspired by the same things that inspired me, ultimately enjoying a night filled with fashion and friends. Obviously, due to the current times, I will no longer be able to do this. My new challenge is figuring out how to virtually simulate this same experience so that others can see all the work I have put into my clothes over the last few months.
Since my project began I have spent almost everyday sewing or designing my clothes. I am making a line of clothes inspired by home and garden magazine covers. Since I was little I always thought that having those magazines in your house was the epitome of class, so I really wanted to use them as inspiration for my first line. I tried to pull from all aspects of my life and put it in this show. The first piece of the line, pictured here, is my take on athleisure. I chose to showcase this wide leg pant that looks good on all shapes and sizes as the first piece because I truly want the clothing I make to look good on everyone and to be wearable fun fashion. Another thing that really influenced my design was my experience growing up in Hong Kong. While I was there, I learned so much about architecture and design and the influence of nature, even in an urban jungle, and I wanted these experiences to influence the shape of my clothes and the prints I use.
Before my project began, designing fashion was my escape from reality. Whenever I was feeling stressed or overwhelmed I would head over to the studio. Now that I am making clothes for my independent study, my process has become less organic. The idea that it is required has changed my relationship with the art greatly. This transition initially caught me off guard. In the beginning, my motivation was definitely stunted. For the first two weeks, my mind was full of thoughts that were scrabbled, disorganized, and unsatisfactory. To get past this mental block, I worked on pushing the project requirements out of my mind and creating a more freeing work environment. This environment was filled with good vibes via music, the magazine cover that initially inspired me, and the encouragement of my friends.
Through this project, I learned more about myself than a traditional school setting could ever teach me. I think a lot of people view fashion as shallow, however, through this project I have really learned not only the importance of expressing oneself through the clothes they wear but also how to do just that. I found the ability to show who I am through the simple everyday outfits I wear, and I hope my journey will inspire you to also find something to express yourself in.