Tomatoes, you may be surprised to learn, is a community service organization at Tabor. Every weekend, we gather our members and walk the 10-minute walk to the Sippican Health Center of Marion where we hold a 30 to 45-minute recital for the elderly residents who live there.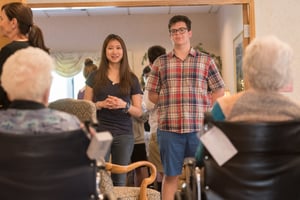 What I love the most about Tomatoes is that it is a self-run student activity. No one is forcing any of us to go. It is the interest and self-discipline of the members that has allowed Tomatoes to remain an existing group, year after year. In fact, Tomatoes is probably the longest running student run service organization within Tabor Academy. We elect our leadership each year, and this year I was chosen to help keep the group organized. I don't know how we got our name!
I joined Tomatoes during my first year at Tabor, my sophomore year. I was an eager 'closet' pianist with few opportunities to perform in public to get over my stage fright (I still have it). Back then, Sophia and May were the co-heads, and they were excellent pianists and musicians whom I respected. Along with several other talented members, I had the impression that the bar was set too high and that I could not participate. But I was wrong!
I cannot precisely remember the details of my first recital, because I was not in the state to do so. My hands were shaking uncontrollably; I was not used to the piano they had at the facility; I played so many MANY wrong notes; I rushed through the piece, etc. etc. I thought I messed up big time, and that I should not even be in the group. To my surprise, the elderly residents who we were playing for and the fellow members of Tomatoes, who were such excellent musicians, applauded enthusiastically. At that moment, I realized that this group is not about having the greatest aptitude for music, but about enjoying music together, both listening and playing. At Tomatoes, we play for fun and are rewarded by the enjoyment of others.