---
by Anika Walker Johnson, Dean of Multicultural Education and Community Life
"If we could change ourselves, the tendencies in the world would also change. As a man changes his own nature, so does the attitude of the world change towards him...We need not wait to see what others do." (Mahatma Ghandi)
In 2013, Tabor Academy hired educational consultant, Christine Savini of Diversity Directions to conduct a school-wide diversity and inclusion climate assessment to enhance diversity at Tabor. The purpose of this assessment was to help us as a school community to identify areas of both weakness and strength. We continue to be a work in progress as we grow toward becoming "a community where all members have voice, are given respect and see their identities reflected and affirmed in the curriculum, co-curriculum, physical and virtual environments of the school". Though growth can be unsettling and not as fast as we would like at times, we are leaning into that discomfort to effect the changes that we know are necessary.
Read Tabor's Statement of Diversity and Inclusion
An important part of growth (as our faculty and student delegation in attendance at the NAIS People of Color Conference and Student Diversity Leadership Conference learned this past week) is "learning to listen and listening to learn". With that goal in mind, the Diversity Leadership Council has begun organizing a series of gatherings called "Cultural Conversations". These conversations are meant to provide a safe space to talk about and address a broad range of topics to increase cultural connections across campus. The multiple aspects of our individual identities (e.g. gender, religion, family structure, race & ethnicity, sexual orientation, age, physical and mental ability, et. al.) influence our daily interactions with others, and when we do not take the time to learn more about ourselves through these interactions, then our perspectives are limited and prevent us from truly being empathetic about the experiences of others. The first "Cultural Conversation" held in November addressed the topic of stereotypes, and the variety of ways that stereotypes impact our actions toward others and thoughts we have about ourselves.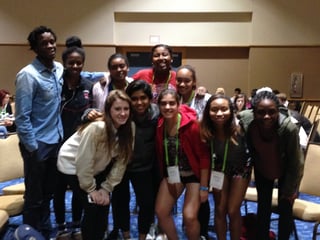 We are excited that Ann Richard and the Library staff will be hosting the next conversation in the Hayden Library on Sunday, December 13th from 6 p.m. – 7 p.m. on the topic of Hanukkah as a religious and cultural celebration. In addition to conversation, there will be dessert, games and stories. We look forward to sharing in this experience with our Jewish community members. In the recent words of President Obama, "At its heart, Hanukkah is about the struggle for justice in the face of overwhelming obstacles. It's a chance to reflect on the triumph of liberty over tyranny, the rejection of persecution, and on the miracles that can happen even in our darkest hours." Hanukkah Semeach (Happy Hanukkah)!
---