Tabor is in the midst of its third full week of distance learning, and I feel the weight of just how much has changed since we all departed for spring break.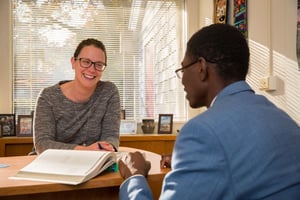 And while it has been incredible to see the efforts and adaptability of Tabor's faculty, and the resilience and determination to carry on in our students, we all know this isn't easy nor the way we'd like it to be. I miss hearing the chatter of Cornelia Hall girls through our kitchen door, the students dashing into my office for a bit of mid-morning chocolate after Chapel, and the daily stroll down to the dining hall with my colleagues to enjoy lunch on the waterfront. Indeed, it is easy to get caught up in what's changed, but in the process, we risk losing sight of what remains the same. I am particularly mindful of this fact when meeting with my junior college counselees via Zoom. While so much is different now and the future is uncertain, I take comfort in acknowledging that there are some constants that can help us stay grounded and focused on the journey ahead.
So, what hasn't changed for juniors going through the college counseling process? First and foremost, students will apply to college in the fall. In order to be best positioned to do so, there are some important tasks to complete this spring.
Teacher Recommendation Requests
As we highlighted with students in the second college counseling class seminar in February, most colleges require two letters of recommendation authored by junior-year teachers. Ideally, one letter will be written by a teacher from English, history or foreign language and a second written by a teacher from science or math. This allows for a complete representation of each student from both quantitative and qualitative perspectives. Juniors should expect to engage in thoughtful conversation with their counselor about who they will request to write on their behalf and why. Once determined, students will secure their teacher recommendation contracts via email no later than May 8.
The Importance of Research
Given that students are not currently able to visit campuses and that spring break plans to do so may have been thwarted by the pandemic, online research will be even more significant in the coming weeks and months. Yet,learning about a college via the internet is likely easier now than before Covid-19. As colleges react to the growing need for better and greater virtual visit opportunities, they have created new platforms through which prospective students can engage with and learn about colleges on their list. Virtual tours are being enhanced, virtual information sessions are being offered regularly, and opportunities to engage with current students and professors in online chats and panels are becoming more widespread. Juniors, this is your chance to take advantage of the many opportunities to visit virtually, knowing that you can learn a lot through these endeavors. At the same time, take comfort in knowing the day will come when you will get to set foot on a college campus again. In the meantime, make the best of what's available and get back to that research.
Creating a Common Application
The Common Application is an online application used by over 800 colleges when assessing a student for admission. By the end of April, students will receive step-by-step written instructions and a video introduction from the college counseling office with all the information they need to create and begin filling out their Common Application. They can then expect to spend time in individual meetings with their counselor reviewing progress. While the process will be different, the end result will be the same: all juniors will begin their summer breaks with a partially-completed Common Application that they will continue to work on before returning to Tabor in the fall.
Completing the Brag Sheet
An internal document that asks students to engage in thoughtful self-reflection and self-assessment, the junior brag sheet is a survey housed in each student's journal in Naviance. Counselors have begun introducing and explaining the brag sheet in individual student meetings, highlighting its usefulness in providing excellent fodder to deepen and enhance the counselor letters that will be crafted throughout the course of the summer. Students are expected to thoughtfully complete this document by June 1.
Finally, and perhaps most importantly, Tabor's college counselors remain available to work with students and families. While we miss seeing students in our offices, we are grateful for the technology that allows us to move forward with productive, engaging individual meetings. None of us has a crystal ball to know what the coming months will hold, and there may be some unexpected bumps along the way, but you are not alone in navigating the path forward. Remember, this is a journey, one that may not always follow a straight path. Yet, focusing on that which you can control - securing your teacher recommendations, continuing to research colleges, creating your Common Application and completing your Brag Sheet - will help you make great progress toward a bright future. Be well and stay healthy.