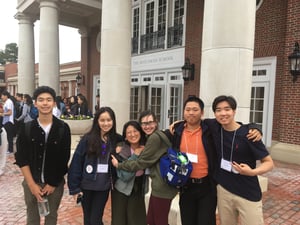 On April 14th, the Hotchkiss school sponsored the Asian American Footsteps Conference (AAFC) for Asian, Asian-American, and mixed-heritage Asian students. The conference was open to students who are in the community and attend independent secondary school in New England. Tabor students Justin Chen '22, Mary Do '21, John Do '21, Gillan Campbell '21, Athena Zhong '22, and I participated in the conference. During the conference, people discussed and shared opinions about their identity, roles, and responsibilities as leaders of Asian community on ca­­mpus and in the United States.
The keynote speaker was Rosetta Eun Ryong Lee, a faculty member of Seattle Girl's School. According to her website, after graduating from Harvard University, Ms. Lee has been a diversity speaker and trainer on a variety of topics including cross cultural communication, identity development, implicit and unconscious bias, gender and sexuality diversity, facilitation skills, and bullying in schools. Ms. Lee spoke about various topics from her life as an immigrant from Korea, her identity as Asian in general, and her ideas about to how to improve cross cultural communication.
Conference participants had an opportunity to choose sessions they wanted to discuss and develop. There were various sessions such as What I Said & What I Meant; What does it mean to be "Asian Enough"?; Proud to be Queer, Questioning or an Ally!; A History of Asian-American Activism; and High School Dating Through Confining Stereotypes. Each session lasted for about an hour. I took topics about how to improve cross cultural communication, how to lead with purpose and presence, and how to deal with the microaggression. I wanted to learn how to integrate people who have different cultures with the purpose of creating a more inclusive community. The networking sessions we had with students from other schools allowed us to discuss Asian affairs on our own campuses, and also how we can create a more inclusive community for not only Asians, but everyone in our school communities.
At the conference, Tabor Academy was invited to be a member school of Interscholastic Asian Publication which is conducted by Asian student community. We are going to publish articles about Asian community affairs and expand our network with other schools through sharing our thoughts. This activity will be a great opportunity for me to achieve my personal goal to increase empathy among our community through giving students an opportunity to learn about differences and be actively involved with different culture groups.