Over the winter long weekend, six students and two faculty chaperones took a sojourn to Quebec. Here is an account of their adventures along with some photos to enjoy. It was a nice cultural opportunity to speak and hear French, learn history and observe a new country so close to home, accessible by bus!
A Daily Journal: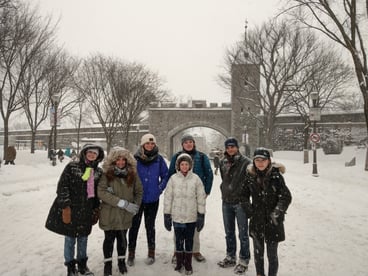 Saturday Day 1: February 3, 2018
Day 1: Immediately after the program, we gathered in the Lillard parking lot. We were sad that Jack Marshall and Kate Sparks would not be able to join us. After picking up lunches from the dining hall, we started the MB2 van and turned onto Front Street. We were finally on our way!
Our first critical stop occurred three minutes and .5 kilometers later at Dunkin Donuts. Riley Richardson emphasized the critical importance of Dunks on a voyage such as this. She was not wrong. Sure we had listened earlier in the day to a nutritionist and doughnuts were not among her recommendations, but you have to vivre un peu!
The ride was long but smooth. With only one bathroom break in New Hampshire, we flew through the White Mountains and Northern Woods of New England. At the border, we were the only vehicle in sight. Really. Canada has not yet become a winter destination. The thermometer read 10 degrees. Maybe there is a correlation. Crossing the border was seamless.
A few students confessed to having forgotten everything on the packing list, so we made an unplanned stop at a French-Canadian Super Walmart in Magog. First instance of culture shock: Walmart closes at 5PM on a Saturday! Hearing the French around them, the students were convinced that the rumors were true: they actually do speak a different language in Québec.
We decided to suppress our hunger and to finish the 2.5 hour drive to Quebec City. It is surprising how little there is between the provincial capital and Montreal. We made one stop for gas at a Couche-Tard station. The temperature had plummeted to a crisp 0 degrees Fahrenheit. That's not nearly enough.
Excitement in the van rose as we neared the hotel. Parking was a struggle and a few three-point turns quickly earned us some Québecois frenemies. Madame Su found an excellent restaurant (Cosmos) next to Hotel Le Concorde, and we sat down at 9PM to a dinner of poutine, burgers, and fruit smoothies. Comfort food for a frigid night. By 10:30PM we were headed to bed ready for an 8AM start the following day.
Sunday Day 2: February 4, 2018
For our first full day in Quebec City, we had a rendez-vous at 8AM in the hotel lobby. It had snowed throughout the night and the forecast said to expect several inches more for a total of 8+ inches. We were undeterred. And so was the city. When you live halfway to the North Pole, life must go on.
We drove (carefully) to a French style bakery about 20 minutes north of Québec called Boulangerie du Lac. It was everything we had hoped. Many people describe the European feel of Quebec City and its surroundings. This café definitely fit that description. There was a wide selection of baguettes, pain au chocolat, croissants, and various tarts. To drink, most stuck with coffee to help wake them for the day.
After breakfast we drove just a few minutes down the road to Siberia Spa. Knowing that we would be walking for much of the afternoon under incessant snowfall, this was an essential stop to prepare mentally and physically.
When we walked in, a friendly employee immediately greeted us and showed us around. Typically the spa caters to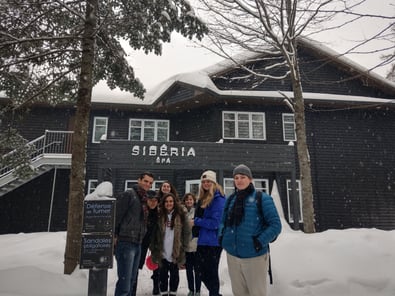 adults in search of a peaceful getaway. There are signs posted everywhere to remind visitors to whisper or even to be completely silent. On Sunday mornings, they give access to families (and American teens with their teachers) and are much more flexible with those rules. For 2.5 hours we wandered outside in the cold between steam rooms, saunas, Jacuzzis, frigid pools, and even an icy river for the most intrepid guests. It was tough to respect the noise restrictions after leaving the toasty sauna and plunging into the ice bath. A few students reported mysterious screams coming from their pores.
We all preferred the idea of a light lunch and so returned to the boulangerie. It was the right decision. Lunch was just as good as breakfast. French style baguette sandwiches, quiche, and croque-monsieur kept everyone fueled for the next few hours.
We made a quick stop at a local supermarket to get some Canadian currency. All the cashiers were wearing jerseys for NFL teams. A couple interesting things happened. The students realized that the store accepted American dollars. We found out that the 2 dollar bill Mr. Wall gave us to spend is no longer in circulation. We also discovered some funky snacks and cheeses that don't exist in the U.S.
Back at our hotel, we gathered at 3PM to explore Carnaval de Quebec and the Old Town. We walked and looked and shivered. The old cobblestone streets were quaint under the falling snow. Le Château Frontenac impressed. Despite the cold, the simple beauty of the scene struck us all. We had planned to wander some more, but the weather drove us inside for an early 17h30 three-course dinner Aux Anciens Canadiens. The atmosphere was conducive to relaxation and good conversation. We tried escargots (snails), elk sausage, poutine, maple pie, goat cheese and duck confit salads, and bison burgers.
By the end of dinner, Super Bowl LII had already started. As Americans and representatives of a New England school, we knew what we had to do. A room was selected, and we all gathered together to watch the game. The experience was a little different for some. The announcers only spoke French. The halftime analysis was in French. The commercials advertised for places like Canadian Tire (and were also in French).
Monday Day 3: February 5, 2018
Day 3 started at 8AM. It took about 30 minutes to dig the Tabor van out from the snow. Big thanks to the dining hall for the cardboard box that held the sandwiches. It came in handy.
For breakfast we went to Café Félin in the residential neighborhood Cité Limoilou north of downtown. As the name suggests, in addition to good coffee and croissants, this café distinguished itself by the six cats that lived there. The owner hopes to promote animal adoption. The students enjoyed playing with the cats while they waited.
Across the street, we tried quilles, a French-Canadian version of bowling. Most of the rules are the same as in the US. The ball, however, is about half the size. We watched some skilled players next to us. Many of them threw overhand to get the proper rotation. Min Jung, Riley, and Katy all had great games. They could direct the ball more or less straight. The rest of us spent most of our time in the gutter.
After an hour indoors, it was time to freeze again. We next drove to the Chutes Montmorency, a waterfall northeast of the city. From the top of the park, you look down on the Ile d'Orléans and the St. Lawrence River. A gondola lift transports visitors to the base of the falls and back with many photo opportunities along the way. The waterways in every direction had frozen over except for the core of the falls, which continued to thunder. A mountain of ice crystals jutted up towards the sky at its base.
For lunch, we went to Chez Ashton, a restaurant rapide specializing in poutine. No regrets. Peter successfully ordered in French, which was impressive.
In the afternoon, we drove ten miles north into the hills. Quebec is sparsely populated, and once outside the city you got a sense of how expansive the region is. The students enjoyed some intense sledding at the Villages Valcartier.
We finished the day with dinner and an opportunity to purchase souvenirs at the Galéries de la Capitale. At 8PM we returned to the hotel for our last evening in Quebec City.
Tuesday Day 4: February 6, 2018
On our last day, everyone stumbled out of bed, packed their bags, and took the elevator to the ground floor for an 8AM meeting. Everyone was on time!
After checking out, we went for breakfast at Bagel Maguire, an establishment dedicated to the fine wood-fired Montreal style bagel. The breakfast did not disappoint. Nutella spread and in-house strawberry jam made it even better. The students continued to crack WIFI passwords wherever we went.
By this time, we were already 45-60 minutes behind schedule. We jumped back in the van and respected the 100 kilometer/hour speed limit all the way to Chenil La Poursuite.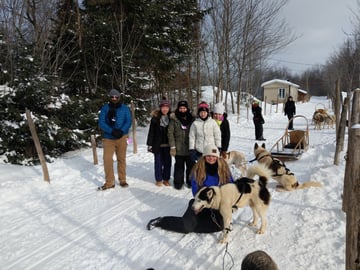 At least one hundred dogs live on site. I was not prepared for the scale of the operation. We divided into passenger-driver pairs. After a quick lesson on steering and braking the sled, our guide glided away, and we tried to keep up. The dogs only have one gear and do not pay attention to commands. They run as fast as they can, especially if they get close to another group, stopping only when forced to. We only had one run-away sled (the chaperone's). The students performed better. The trail looped through the forest and back to the camp. The morning ended with hot chocolate, a short walk with snowshoes, and a visit to some of the friendly puppies that live there.
We needed to make up some time, so we stopped quickly for gas and food a few miles down the road. A few bought some last-minute souvenirs at the IGA grocery store.
Our long drive back to Marion started at 1PM. At the border, we anticipated more scrutiny that we had received entering Canada. We were not disappointed. Forty-five minutes after arriving, the customs officers allowed us to continue on our way.
We finally pulled into Marion at about 9:40PM. With Wednesday's class schedule on everyone's minds, it was time to return to the real world.
Click here to see more photos.