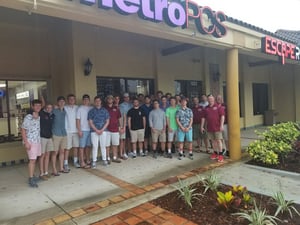 Day 1-Thursday, March 14, 2019
We are tired! We left Marion this morning at 5:00am and it is now 10:00pm. In between those two times, we all made our flights, we lost a bat along the way, but was retrieved and handed to us just as we were pulling out of Orlando Int'l Airport. We drove for 30 minutes, stopped at Chipotle/Chik-Fil-A and had lunch, drove the remaining hour, arrived at 3:00pm, checked into our rooms, practiced at 4:00pm, had boxed dinners and changed into our game uniforms at 6:00pm, played our first game at 7:00pm in Holman Stadium vs. Loomis Chaffee School, returned to our rooms at 9:30pm, greeted by Mr. Heaslip with 10 pizzas...
So, we will be checking in to our rooms at 10:30pm and getting some sleep. Tomorrow, we have breakfast at 8:00am, practice at 10am, lunch at 12pm, batting practice at 12:30pm, games at 4pm and 7pm. On Saturday, we will have practice in the morning and then take the afternoon off to go to the beach, followed by a Team Building event at an Escape Room, followed by a few hundred chicken wings while watching NCAA basketball at Lefty's Wings and Grill in Port St. Lucie!
Boys are in great spirits...such an awesome group!
Coach Ackerman
Day 2-Friday, March 15, 2019
What a great day on the field today!
We had breakfast at 8:00am, followed by a 10am practice (we worked on our bunt defense, PFPs, and then some outfield and infield reps), then ate lunch at 12pm, followed by a hitting practice and catcher's practice with Coach Barry in the batting cages at 12:45. At 2:00pm, we took 2 van loads to Publix Supermarket and the boys loaded up on provisions for their rooms.
At 4:00pm, we had our first JV game vs. the Ontario Blue Jays. Andrew Mottur pitched 3 strong innings, followed by Charlie Simmons and then Dominic Napolitano. With only two varsity catchers on the trip (Jake Cady and Brandon Sherman), we took some time teaching some boys how to catch. Sammy Parks jumped in and caught the 1st 4 innings of the JV game and did a great job. Then Tucker Link came in from SS and caught the final 3 innings and also did a nice job. Colton Mairs played some 2B and SS, Evan Chase played RF and scored 3 runs on 1 hit and 2 BBs. Besides pitching, Andrew Mottur scored 2 runs on 1 hit and 1 ROE, Percy Ackerman made all 4 catches (3 in LF and 1 in CF) and scored 2 runs on 1 BB and 1 hit (a perfect bunt up the 3B line. Charlie Simmons scored 1 run on 1 hit and 1 BB, Dom Napolitano played 1B before coming in to pitch, Kam Farris played flawlessly at 3B and then in LF in the varsity game later, where he made a big catch. Greg Leedham played LF and made 1 catch and some nice throws to the cutoff keeping runners from advancing and Jonas Ackerman played CF in the JV game and then had his first game action in LF with the varsity and made some nice catches, especially tough running catch to thwart a rally. Unfortunately, we lost 10-8.
At 7:00pm, the varsity team headed back over to Holman Stadium to face Vernon Township HS from New Jersey. Jack LeBrun took his turn on the hill and pitched 3 innings and left with a 4-3 lead. Tommy Rousseau came on to pitch in the 4th and after working through some early nerves, finished the final 4 innings. Both pitchers were terrific, and our defense rallied behind them and held on for a 4 -3 victory! The Seawolves scored all of our runs in the bottom of the 1st inning as Sam Parks laced a single to CF to lead off the game. Sam stole 2nd and moved to 3rd on a passed ball. Jake Cady walked and stole 2nd and then Chris Rezendes hit a monster double to the left CF gap to plate our first two varsity runs of the trip and a 2-1 lead. Owen Heaslip ground out to 2nd and moved Rezendes to 2nd. 2nd Baseman Brandon Sherman walked and stole 2nd and then 1st Baseman Ted Dunn ripped a single that drove in 2 more with 2 outs and a 4-1 lead. Our pitching and defense took over from there with Jake Cady catching 4 innings and Brandon Sherman the final 3. Their work with our pitchers and blocking ball in the dirt saved quite a few possible runners from reaching scoring position. Jackson Reydel made a nice twirling turn at 2nd base with a 1-hopper back to pitcher Tommy Rousseau who whirled and fired to Reydel, who did his thing twirling and firing to Dunn at 1st to complete a pretty double play. Our outfielders made some nice plays holding runners at 3rd base with less than 2 outs. Sam Parks made a nice catch and throw, as well as Jonas Ackerman in LF. Owen Heaslip played LF, and then gave way to Kam Farris. Jake Howell played 2nd base and had 1 BB at the plate. Tyler Harvey made some nice plays at 3rd Base and Connor Guyette, still nursing a sore knee, did the book and will see some time in our next game.
It was a great day!
Tomorrow, we have breakfast at 8:30am, followed by batting practice at 9:30 and then a field practice at 10:45am. Afterward, we have the afternoon off to hang by the pool, play basketball, tennis or tetherball, sleep, sunbathe, rest, etc. Then, at 4:30pm, we will depart for the Port St. Lucie Escape Room, where we will split into 3 teams and see which team can work together best to escape from their room first. Afterward, we are heading over to Lefty's Wings and Grill to eat 200+ wings and watch some hoops.
Day 3-Saturday, March 16, 2019
This morning, after breakfast, we practiced at 10am, splitting the squad into a younger and older group. The younger group hit the batting cages first with Coaches Barry and Harlow, while the older group worked on our 1st & 3rd defense on the little field (field #3). Then we switched for the second half of practice. After practice, we all had some free time until we left for the Escape Room in Port St. Lucie at 4:30pm. Some boys went to Indian River Mall to do some shopping, some went out for lunch at a local burger joint, some hung around and played hoops and/or hung around poolside. The weather was overcast and rainy all day, so although it was not the perfect pool/beach day, it was a perfect day to not be playing baseball. We all needed some rest!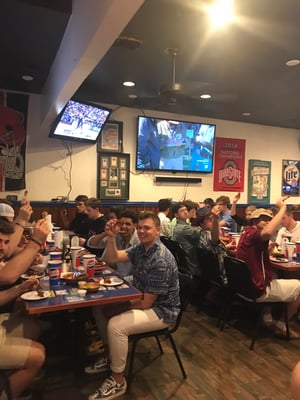 At 4:30pm, we loaded the two vans and drove 45 minutes south to Port St. Lucie for some Escape Room fun. Team Guyette went first drew the 'scary' room called Simon's Room. Each team is allowed 1 hour to escape from the room and the previous record for Simon's Room was 36+ minutes. Team Guyette threw down the gauntlet and smashed that record, escaping the room in 32 minutes and 59 seconds. It wasn't all that scary, but the highlights were the entire group having to sing a song as loud as possible and then realizing that we were singing the wrong song. Then, in order to earn a clue, Greg Leedham had to get locked into a coffin with a clown for 60 seconds. And finally, Jake Cady and Connor Guyette broke the code of the hopscotch, which the manager said is usually where most groups get stuck. Team Harvey got to Feel the Power of the Storm in the Vortex Room and finished in just under 40 minutes. And finally, Team Reydel got the Saturday Detention Room and stuck with it and finally figured it out in just over 40 minutes. We took some team photos and then headed a few doors down in the same strip mall to Lefty's Wings and Grill, where we devoured 300+ wings, sodas, fries, sandwiches, etc...
This is a great group of boys who are getting along very well. I like the way they look out for one another and are working hard on the field.
Rain is in the forecast for the next 2 days, so we are hopeful that it will not keep us from our practices and games.
Tomorrow, we have breakfast at 8:30am, followed by field practice on Field #2 at 10am, lunch at 12:00pm and then Batting Practice in Cage C (next to Field #3) at 2-3:30pm. The Varsity will then play Newark Academy from NJ at 4:00pm in Holman Stadium with Sam Parks, Jackson Reydel, Brandon Sherman and Jake Howell ready to pitch. Dinner afterward, followed by a JV game at 7:00pm under the lights on Field #2 vs. Nonnewaug HS from CT. Tucker Link, Evan Chase, Kam Farris, and maybe some others will get their chance to throw some innings.
Day 4-Sunday, March 17, 2019
What an incredible day for the Seawolf 9 (or 22)!
We started with breakfast at 8:30am, then headed out to Field #2 to work on our run-downs, followed by lots of reps for infielders with Coach Dineen and lots of footwork and working the warning track for the outfielders with Coaches Barry and Harlow. After practice, we had lunch and some rest, before Coaches Barry and Harlow threw BP in Cage C at 2:00pm.
After BP, we headed over to Holman Stadium as the Varsity matched up with Newark Academy at 4:00pm. Sam Parks got his first start in the hill and pitched 3 innings, giving up only 1 run. Jackson Reydel pitched the final 2 innings, as we 10-runned the Minutemen of Newark Academy 11-1 to run our Spring training record to 2-1 for the Varsity team. The Seawolf bats pounded out 11 hits and 10 BBs. Sam Parks had 1hit, 2 SBs, 2 runs, 1 BB and 1RBI; Colton Mairs had 2 BBs while playing 2B; Chris Rezendes hurt the ball 3 times with 2 singles and 1 double, scoring 1 run with 3 RBIs and 1 BB; Jake Cady scored 1 run on 2 BBs; Jackson Reydel had 2 hits, 1 RBI and 1 run; Kam Farris earned 1 BB and hit a pretty Sac Bunt; Owen Heaslip scored 2 runs, had 1 BB and 1 SB; Jake Howell had 1 hit, 1 run and 1 SB; Brandon Sherman caught 2 innings as he was in the bullpen as the next pitcher up (he will pitch on Tuesday); Jack LeBrun had 1 hit; Ted Dunn had 1 BB; Tommy Rousseau had 1 hit, 1 run and 1 RBI; Evan Chase had 1 run and 2 BBs; Tyler Harvey ripped a single, scored a run and had 1 RBI; and Connor Guyette played 3rd base and looked great!
As soon as we finished up, we headed to dinner and then headed over to Field #2 for the JV game vs. Nonnewaug HS from CT. Tucker Link got his first start on the hill and Greg Leedham started behind the dish. Tucker pitched the first 2 innings and left with a 1-0 lead. Evan Chase has his debut on the mound afterward and gave it his best and pitched 1/3 of an inning. Jonas Ackerman pitched the next 2 2/3 innings and then Dom Napolitano pitched the 6th inning. In the bottom of the 6th, we trailed Nonnnewaug 5-1 and came to the plate trailing by 4 runs. Then some Seawolf magic happened....we decided to take a strike before swinging to try to put some pressure on the opponent and 3 of our fist 4 batters (Mairs, Howell and Percy Ackerman) walked. With the bases juiced, the Nonnewaugians went to the bullpen and Dom Napolitano greeted the closer with a single to RF plating Mairs and cutting the lead to 5-2 and bases still juicy with 1 out. Charlie Simmons battled and drew a walk, cutting the lead to 5-3 with 1 out and bases still stinky. Evan Chase drew another walk and the lead was cut to 5-4 with 1 out and bases still caked. Leadoff hitter Andrew Mottur hit a slow roller between 3rd and SS and the 3rd baseman threw the ball over the head of the 1st baseman as we cleared the bases for a 7-5 lead and Mottur advanced to 2nd. Mairs singled sharply to CF and then Howell drove in Mottur to make the lead 8-5 Seawolves. On the the 7th and 3 outs needed for a victory. Unfortunately, we walked the first 4 batters and the lead was cut to 8-6, 0 outs and bases chucked. So, we went to Jake Howell to close it out and Jake K'd the first batter. The second batter fought off some good pitches and a ball squirted away from our catcher as another run scored cutting our lead to 8-7 with the tying run at 3rd, go-ahead run at 2nd. The next pitch was a flyout to Jonas Ackerman in short CF who held the runner at 3rd with a good throw. Then the final batter hit a 2-hop chopper to Charlie Simmons at 3rd Base, who crow hopped (like a good outfielder) and threw a seed to Dom Napolitano at 1st for the final out...SEAWOLVES WIN BABY!!!!!
There were many highlights today, including Percy Ackerman making a catch in LF for the 2nd out of the inning in the 4th and then throwing a one-hop rope to catcher Tucker Link, who made a great catch and tag to complete the double play.
The Highlight of the week so far might be the one that saved our first varsity win. While playing Vernon Township HS on Friday in Holman Stadium, we had a pitcher warming up in the bullpen up the LF line. the bullpen in on the field, so Coach Harlow went out to protest the pitcher and catcher from getting hit with foul balls. With a man on 1st, the Vernon Township batter laced a ball up the 3rd base line headed for the bullpen. Coach Harlow made a really nice play saving anyone from getting hit with the ball...BUT, it was a fair ball! So, interference was called and the runner at first was awarded 3rd base and the batter was awarded 2nd base. The next batter was retired and no runs scored. If he hadn't done that, it would have most likely been a triple and the tying run would have scored. Instead, we hung on and won 4-3. Nice play Coach!
I can't say it enough, but I am lucky to coach this great group of young men and to spend time with good friends and awesome coaches. I love this team!
We are all tired, sore and running a bit on fumes...so, we decided to allow the boys some sleep-in time tomorrow. We will wake them around 11:00am, eat brunch and then take Batting Practice in Cage C at 2pm. The JV team has their final game tomorrow at 4:00pm on Field #2 vs. Glenelg HS from Maryland. Afterward, we will head to the Dodger Clubhouse/Lounge, eat pizza, watch TV, play pool and ping-pong and fill out our NCAA Brackets. We will also spend some time packing up our rooms as we will play our final game at 9:00am on Tuesday in Holman Stadium, clean up ourselves, eat lunch and then drive 90 minutes to Orlando int'l Airport.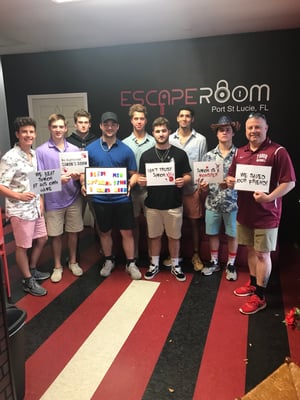 Day 5-Monday, March 18, 2019
This morning, we allowed the boys to sleep in a little bit and for anyone who wanted some extra fielding work, Coach Dineen grabbed the fungo and headed out to Field #6 at 10:00am. Jack LeBrun, Jake Howell, Brandon Sherman, Jonas Ackerman, Andrew Mottur and Sam Parks made it out for some extra ground/fly balls and got some rays before the afternoon clouds came rolling in.
After lunch, we headed over to Cage C for some BP at 2:00pm and then to Field #2 for our final JV game vs. Glenelg HS in Maryland. We tried to find another varsity game for today as well, but we either couldn't find a team or an open field. We are expecting rain beginning tonight and not stopping until early Wednesday morning, so we might have a rainout for our final varsity game tomorrow at 9:00am vs. St. Louis University HS (Missouri). If that happens, we booked an indoor cage (Cage D) to take BP for one last time and then will clean up, eat lunch and head to Orlando International Airport, arriving around 2:30pm for our 4:00pm flight. I will be heading to Sarasota with Percy and Jonas to meet up with Carolyn to stick our toes in the sand for 2 days.
Andrew Mottur got the start on the hill today and was brining it. After 3 innings he had retired all 9 batters (perfect game in the works) and then made the mistake of coming back to the bench in the bottom of the 3rd and said, "I've got a perfect game going right now!" And then the Baseball Gods stepped in and he gave up his first hit in the 4th. Andrew pitched 5 innings, surrendering only 2 hits, 0 walks, 0 runs with 5 Ks. He threw only 48 pitches, 32 of those were strikes. Awesome! Charlie Simmons came on to pitch the final 2 innings, but only got to pitch one since we 10-runned the school from Maryland in the bottom of the 6th. Charlie recorded 2 Ks and 1 BB on 13 pitches. If this is our last game of the trip, it was fitting that it ended with our defense playing perfectly...2nd Baseman Tucker Link recorded 2 Assists (As) and 1 PutOut (PO), Catcher Evan Chase recorded 2 As and 6 POs, Shortstop Tommy Rousseau recorded 1 A and 1 PO, Centerfielder Percy Ackerman recorded 1 PO, 1st Baseman Dom Napolitano recorded 8 POs, 3rd Baseman Jonas Ackerman recorded 4 As and 1 PO. The Seawolves played error free and only had one ball hit to the outfield. Great defense!
Offensively, the Seawolves batted .387 and scored 10 runs on 12 hits and 3 BBs. Andrew Mottur had 1 hit and 1 ROE; Jonas Ackerman scored 1 run on 1 hit and had 1 RBI; Tommy Rousseau scored 1 run on 2 hits; Kam Farris scored 3 runs on 2 hits (1 double) with 1 RBI and 1 SB; Percy Ackerman scored 2 runs with 1 BB, 1 RBI and 1 SB; Evan Chase scored 1 run on 1 hit (double), 1 BB, 1 HBP with 1 RBI and 1 SB; Tucker Link scored 1 run with 1 hit and 1 BB; Dom Napolitano has 2 ROEs; Sam Parks scored 1 run on 2 hits and 1 RBI.
After the game, we spent some time cleaning up and packing and then headed over to the Player's Lounge to play pool, fill out our NCAA March Madness Brackets, eat pizza (Thanks Mr. Reydel) and sing happy 17th birthday to Ted Dunn and then eat his cake (see photos).
We are all checked in for the night now and waking up at 7:30am to eat breakfast and figure out our plan for the day.
More to come...
Coach Ackerman
Day 6-Tuesday, March 19, 2019
Seawolf Baseball Nation,
Well, it was pouring this morning and all game were canceled. So, we had BP at 9:30, packed vans and a quick lunch at 11:00, then departed Dodgertown at 11:30 to get Andrew Mottur to his 2:30 flight and Colton Mairs to his 3:30 flight. Everyone made it and the big Delta group is heading through security now for their 4pm flight, with all bags checked on.
It was a great trip with a great group of young men and three awesome coaches (Dineen, Barry and Harlow). Thank you to all!
We will be coming back to Dodgertown again next March. I have already told the front desk.
Go Seawolves!
Coach Ackerman